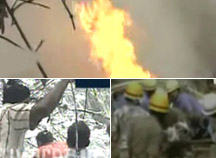 An Air India Express aircraft from Dubai has overshot the runway while landing at the Mangalore airport. The plane has crashed and rescue work is on.
The flight reportedly had 156 passengers, 6 crew members.
According to Airport official Peter Abraham, rescue work is on and high casualty rate is expected. Further details are awaited regarding the incident which occurred at around 6 30 am.
According to reports, 19 children were on board and Karnataka Home Minister Dr V S Acharya said that 60 passengers are feared dead.
Six survivors have been sent to hospital.
The plane is on fire and smoke was seen coming out of the airport.
Sunil Krishnan, Executive Director, Air India while speaking to NDTV, said that rescue officials have already reached the spot and special teams are being sent. "We did see a lot of smoke, latest information is awaited," he added.
The incident happened near a valley 10 kms from the airport, Karnataka Home Minister V S Acharya says, quoting preliminary information.
Mysore airport has a table-top runway which means that it is located on a hill top, which demands accuracy and no room for error while landing.
According to sources, the pilot did not report any malfunction to the Airport Traffic Control (ATC), before landing.
Mangalore airport has been shut for now.
AI has opened helpline centre at Delhi Airport and the two numbers are 011-2565-6196 and 011-2560-3101.