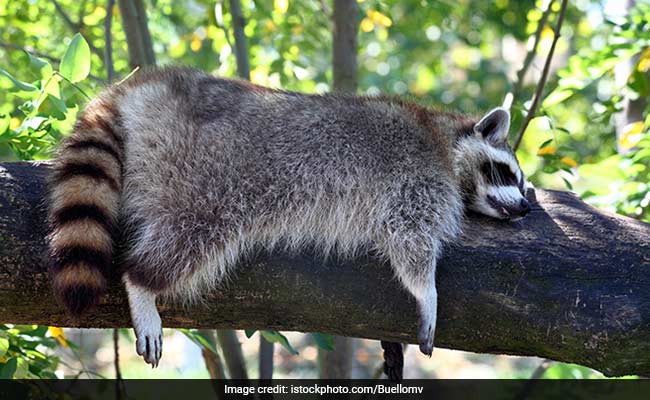 In a first-of-its-kind emergency, a woman in Indianapolis, USA rushed her pet raccoon to the nearest fire station in the dead of the night to seek treatment for the animal.
"As many times as the doorbell on the firehouse was pushed, the firefighters were quite certain that something bad was going on outside," Wayne Township Fire Captain Mike Pruitt told
WTHR News
.
No, there wasn't a fire and neither was the raccoon unwell. The animal had smoked too much marijuana.
The pet raccoon appeared lethargic and showed symptoms typical of when a person is exposed to marijuana, the fire captain said.
Unfortunately, officials couldn't do much about the raccoon's condition except wait. The raccoon was forced to go home and sleep it off.
While the situation may have appeared quite serious at the time, the fire department later poked fun at the strange emergency on Twitter with a hilarious illustration of a raccoon that looks very, very high.
Story of the day! Our FF's at Station 82 were awakened at 2 am last week to a person seeking treatment for her pet Raccoon. What was his illness you ask? The raccoon had smoked too much weed. Yes! It happened! As much as we love animals, there wasn't much they could do. pic.twitter.com/lypHvrBZSJ

— Wayne Twp Fire Dept (@Waynetwpfire) April 16, 2018
The reactions were equally amusing
April 17, 2018
How does a racoon even smoke weed

— Jack (@infactjack) April 18, 2018
I was wondering as well, I am guessing it ate it pic.twitter.com/x4ko0zEtl4

— drixy (@drix78) April 18, 2018
Why, in this day and age, is there no video???!!!!!????

— Jumpin' Jack Flash (@LyricsOfSongs4U) April 17, 2018
Later when the raccoon got the munchies... pic.twitter.com/7iRfoxonjm

— Michelle Witte (@michellewitte) April 18, 2018
Are you guys sure he "smoked" it? This raccoon is pretty amazingly skilled!

— marisol (@dirtytomato) April 18, 2018
Raccoon must have been really stressed out and tried to escape reality

— Jay (@UXJayhn) April 18, 2018
So many questions on this story but I'll start with... a pet raccoon!? https://t.co/GwLersQVrQ

— Naomi Pescovitz (@NaomiPescovitz) April 16, 2018

The raccoon managed to confuse law enforcement officials from other departments as well. In police radio chatter accessed by News Channel 5, baffled cops could be heard discussing the raccoon situation at Wayne Township Fire Department.


"Apparently they have a pet raccoon that got into their meth," an officer is heard saying.
A female officer adds, "Sir, Speedway doesn't have anything, but fire did call across the hall and say that it was a raccoon that overdosed on somebody's heroin."
A few seconds later, a third officer says there were no distressed raccoons where he was.
It's unclear how the raccoon got high on weed.
Recently, eight officers in Argentina were sacked after they said
mice ate over 500 kilos of marijuana
that was stored in the police warehouse.Click for more
trending news