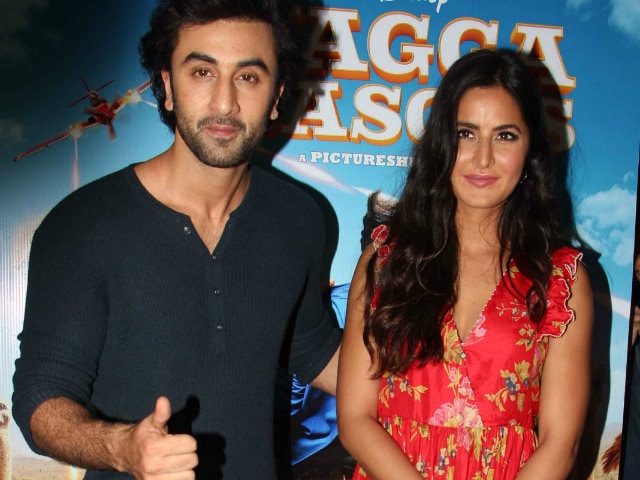 Highlights
'My dynamic with her has always been like Tom and Jerry,' said Ranbir
Katrina said they talk without any filters
'We come, we sit on these chairs and we just talk,' she added
New Delhi:
Katrina Kaif and Ranbir Kapoor are exes and will soon be seen in Anurag Basu's
Jagga Jasoos
. The two have been featuring in headlines for appearing to contradict and cut each other short in promotional interviews for
Jagga Jasoos
. When asked about their sudden frenemy-like behaviour, both Katrina and Ranbir told NDTV it's just a reflection of their real-life rapport, which is a lot like Tom and Jerry, if you know what we mean. "In the last seven years, there's been a lot of conjecture about my life and her life, independently, because of
Jagga Jasoos
and all of that. Whatever we have been talking about since the last 15-10 days, there's nothing like design. It's not like we have thought this through that 'Okay, we are going to say this, take revenge on this one, or someone said this, so we are going to do that'," Ranbir told NDTV in an interview.
"I think my dynamic with her has always been like Tom and Jerry. I'm constantly fighting with her and want to pull her leg. There are certain things I say which is out of context and which is foolish but I just say that to mildly p**s her off,
to instigate something so that she can say something back to m
e," Ranbir added.
"That's it. There is no negativity or eerie layer behind it. When I said Katrina has not overacted and not acted at all on a reality show, I meant it as a joke because in
Zindagi Na Milegi Dobara
, she's so natural that it doesn't seem like she's acting," he also explained.
Only last month it was reported that
Katrina said she won't be working with her ex-boyfriend
and she set the record straight this way: "Actually I didn't say that at all. When a fan, for one of the questions of FB live said that 'Will we see the two of you together in a film, I said 'Well, it's going to be highly difficult seeing that he's a slightly difficult co-star.' These are the words that I used because in that particular interview he was like hanging them up. One after the other he was saying what he believes to be very funny things..."
That's when Ranbir interrupted to say "#mansplaining!"
Soon after Katrina and Ranbir jumped into promotional duties for the film, they featured in a video (which is now viral) in which Ranbir
allegedly mansplained Katrina
interrupting her several times. Katrina appears to roll her eyes, face-palms and appears to be irritated. While the Internet was confused if the tension between Katrina and Ranbir was scripted, the 34-year-old actor was accused of mansplaining his co-star. But it was Katrina who then came to his rescue. "Then I had to come to his rescue and add the hashtags '#loveandpeace, #justjoking, #pleasedontgetdistractedbyallthisnonsense, #wearenotthatbad'," she told NDTV.
"There is zero thought, zero plan, zero conversation. We come, we sit on these chairs and we just talk and I think maybe with maybe not a lot of filters," she added.
Watch part of the interview here:
Katrina Kaif and Ranbir Kapoor dated for six years before breaking-up in 2016. For a while,
the fate of Jagga Jasoos seemed uncertain
but the director announced that not only would they complete filming, the former couple would also promote the film together - which they are doing with delightful enthusiasm and style.
Meet Jagga and Jughead with
Jagga Jasoos
arriving in theatres on July 14.