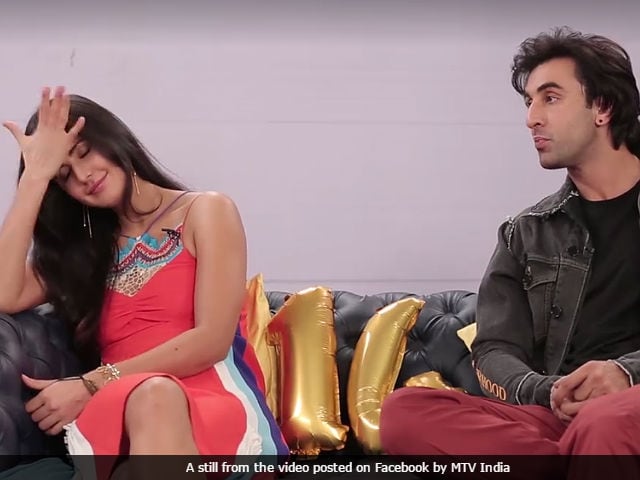 Highlights
In a now viral interview Ranbir interrupted Katrina several times
Earlier, Katrina said that she'd never work with Ranbir again
Katrina also said she purposely made mistakes so Ranbir could 'shine'
New Delhi:
Ranbir Kapoor and Katrina Kaif's now viral interview, in which the former allegedly mansplained Katrina's
Jagga Jasoos
character, seems a bit like a promotional gimmick for the upcoming film. Ranbir Kapoor interrupted Katrina during an interview and said that she did not describe her character 'properly' and because he is the film's producer he could do it better. Katrina looked visibly irritated (she face-palmed, rolled her eyes more than once) with Ranbir's seemingly 'condescending attitude' but is that the complete truth? Or is the tension between Katrina Kaif and Ranbir Kapoor in the interview scripted? We have these doubts because of
Ranbir and Katrina's previous record during Jagga Jasoos promotion
.
It started with the release of
Jagga Jasoos
' first song, titled
Ullu Ka Pattha
. Soon after the song topped the trends list, the makers released a behind-the-scenes video of the song's making. In the video, Katrina said that
she had to 'slow down'
so that Ranbir could 'catch up' with the dance moves. She said: "
We are dancing with novices
. The technique is to slow it down so that you can support them." Ranbir's retaliation came with the release of the
film's second song Galti Se Mistake
. But before the song, UTV Motion Pictures, who co-produced the film with Ranbir, released a video in which Ranbir said: "Hey, Katrina. I've been shooting and minding my own business when I see these two 'behind-the-scenes' videos in which you say that you are 'making mistakes' so that I can 'shine' and 'come to your level.' Amazing." And then he released the promo of
Galti Se Mistake
(the full song arrived a day later).
Watch Katrina's behind the scenes video for
Dil Ullu Ka Patha
And this was
Ranbir's retaliation piece
:
Then there was
Katrina Kaif's 'I won't work with Ranbir again' comment
. The actress told media: "People now have proof that he is a very trying and testing person. Ranbir has also gestured (to me) to not work on a film together. It will never happen again," reported
mid-day
. Ranbir later clarified and said that it was revenge-cum-joke.
Ranbir's 'honest truth' as told to NDTV
: "I cracked a joke on her and she cracked it back on me. And she's saying 'It's really fair that the media has taken just my joke and made this out to be like something that I just said. I wouldn't say that.' So yeah, it's not true."
After these two incidents, we do not know if we should consider the tension between Ranbir Kapoor and Katrina Kaif in this interview seriously.
Katrina Kaif and Ranbir Kapoor first met on the sets of
Ajab Prem Ki Ghazab Kahani
(2009) and fell in love. They dated for six years before they parted ways in 2016. They filmed parts of
Jagga Jasoos
after their break-up and folks believed that the two actors won't promote the film together. Director Anurag Basu said at several occasions that Ranbir and Katrina are thorough professionals and will unite to promote the film.
Jagga Jasoos
releases on July 14.
It seems Ranbir and Katrina have used their real life tension as a mask for the promotion of
Jagga Jasoos
. After all, the heated interview is all over the Internet.
Tell us what you think about Ranbir Kapoor and Katrina Kaif's latest interview in the comments section.