New Delhi:
Highlights
Digvijaya Singh shared a video of NDTV anchor Ravish Kumar on Twitter
Video headline incorrectly suggested Mr Kumar had abused PM Modi
Digvijaya Singh apologised to Ravish Kumar, admitted he had not abused PM
Senior Congress leader
Digvijaya Singh
apologised to NDTV anchor Ravish Kumar today after sharing a video on Twitter that incorrectly suggested the latter had abused Prime Minister Narendra Modi in a public speech on Wednesday.
At a protest organised at the Press Club of India
in New Delhi,
the senior journalist had said
it was disheartening to know that PM Modi followed, among others, Twitter users like Nikhil Dadhich
who celebrated and justified
the murder of journalist
Gauri Lankesh
.
A video of the speech posted by a YouTube user with a wrong headline, however, suggested that Mr Kumar targeted PM Modi using unacceptable language.
Mr Singh shared the video on Twitter earlier today to which several Twitter users pointed out that Mr Kumar had not said what the headline suggested.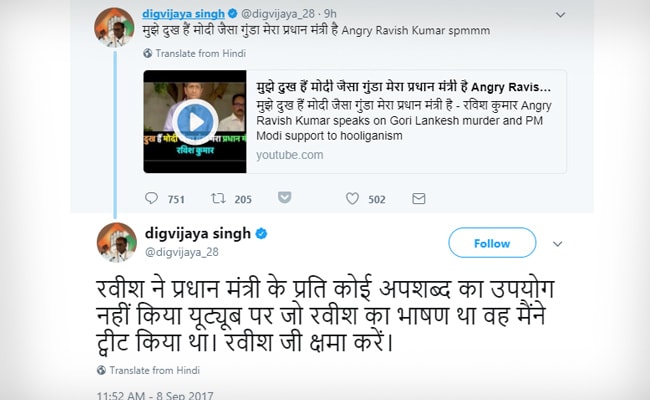 The Congress leader later apologised for the post, saying, "Ravish did not use any abusive language for the Prime Minister. I shared the speech which was on YouTube. I apologise to Ravish
ji
."
Gauri Lankesh, a senior journalist and vocal critic of right-wing ideology, was shot dead outside her home in Bengaluru on Tuesday night, sparking nationwide outrage.
There was anger on social media after accounts followed by PM Modi posted vicious and abusive messages celebrating or justifying the murder.
The BJP
responded to the criticism
with a statement that said the PM's tracking of certain accounts is "not a character certificate" and "is not in any way a guarantee of how a person would conduct himself".
The party today also attacked the Congress government in Karnataka for failing to provide her with adequate security and
targeted liberals for their "hypocrisy"
in being silent over the killings of BJP and Rashtriya Swayamsevak Sangh activists in South India.