My well-wishers from across the country have written "you should stop speaking out like this, you will face the same consequences, (so) write to the Home Minister, the Prime Minister demanding security." But if they couldn't give security to all their sycophants - only one or two have got SPG cover - then where will people like me get security? And in any case, how many journalists will walk around with SPG?
A political atmosphere has been created (so that) even if it does not endorse actions directly, a political atmosphere supports you...it is the result of that atmosphere that allowed people to laugh today at the murder of Gauri Lankesh. This is shameful - which face of Hindutva is this that when a person dies, we
laugh and abuse her
? Mock her? This is the same society which did not speak in favour of two women who stood against Ram Rahim. Do you know any head of any government-run women's organization, that supported the two women? Any minister, bureaucrat, official who tweeted in favour of those two women? It is only because of their fight that the huge empire of such a big
Baba
was destroyed, but our society and big people only believe in concepts like
"Beti Bachao Beti Padhao"
in slogans.
A woman journalist has been murdered. There are very few women who are able, like
Gauri Lankesh
, to reach this level where they are in a position to show the mirror to individuals, society and the government. It's a big, gaping hole of a loss because it is only after a very long battle and a lot of hard work that a person reaches that level where they are empowered and able to show the mirror to society, to powerful people on what is wrong. A life has been taken at this point, think of the enormity of this. I appeal that take this battle to a decisive end, solve this case, fight divisive politics and those who are promoting this - we will take out time from our busy schedules and keep coming to join you all, we will not let you all feel that we made speeches here and left.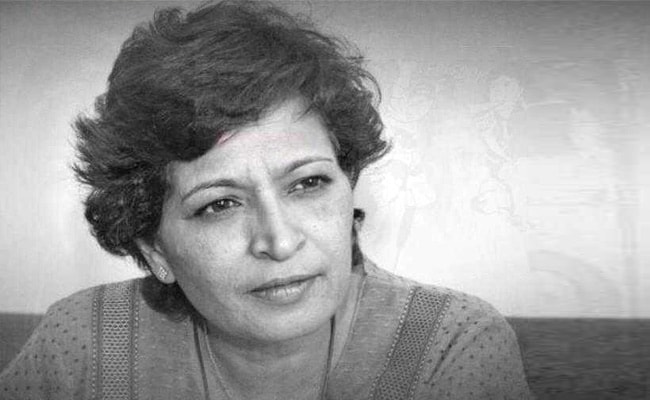 And I request the Prime Minister please not to follow these promoters of hate on Twitter. If he is short of people to follow, he can follow me on social media. I can assure him that I will offer my criticisms with all humility, he will never feel that I have insulted him. I will also treat him to good poetry,
shlokas
(hymns) of Hindu
dharma
, he will not feel that he is in an India where nobody cares for him. I will give him all respect, but he will have to answer this before writing any slogan or couplet on women that how come he keeps company with young people like (Nikhil) Dadhich. And if he falls in the club of 1,700 (the PM follows 1,776 people), then the PM should ask him why he did not maintain your dignity (with their abusive tweets today). If people like him cannot maintain the dignity of PM, then think of how we have an army of lunatics among us - they will "beat" you when you are alone and will do so in public too.
The question is not only how to save yourself but the public that is fighting every day in prime time to get the answers to their questions. Every day, goons are sitting on panels to represent the government. There is an entire design to this. You believe it or not, today or after 10 years, you will realize that fake issues are being raised and discussed to suppress and ignore the key issues. Continuously, people's expectations and aspirations are being suppressed, they are being threatened and an atmosphere of fear is being created. It is not as if the Congress was above all this - they also could be ruthless about serving their own interests using all means available.
Understand this pattern. Our Gauri Lankesh, courageous journalist, has fallen prey to this pattern. I'll try and make available her editorials to you all in Hindi and I request that her views are taken forward in other languages too so that people get to know what was her fault - what led to her being murdered like this.
(Ravish Kumar is Senior Executive Editor, NDTV India)
Disclaimer: The opinions expressed within this article are the personal opinions of the author. The facts and opinions appearing in the article do not reflect the views of NDTV and NDTV does not assume any responsibility or liability for the same.
Get Breaking news, live coverage, and Latest News from India and around the world on NDTV.com. Catch all the Live TV action on NDTV 24x7 and NDTV India. Like us on Facebook or follow us on Twitter and Instagram for latest news and live news updates.