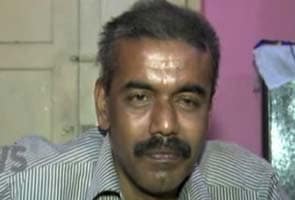 Kottayam:
A Kottayam court today ordered Dharmarajan, a lawyer and the only man convicted in the 1996 Suryanelli rape case, to serve the life term handed to him in 2002 by a special court. Dharmarajan, who has been on the run since 2002, after he was granted bail, was arrested in Sagar in Karnataka yesterday and produced in court today. He will now be lodged at the Central Jail in Thiruvananthapram.
In 2005, the Kerala High Court had remitted Dharmarajan's life sentence to five years, and had acquitted 34 others of the charge of raping a 16-year-old school girl belonging to Suryanelli in Kerala in 1996. Last month, the Supreme Court set aside the High Court verdict and ordered a retrial of the case within six months.
Kottayam Police maintains that finding Dharmarajan after so many years is not a failure. Superintendent of Police Rajagopal said, "We had searched for him earlier in several places in Kerala, failing which the warrant against him was withdrawn in 2010. After the latest developments, a fresh warrant was issued and our team has successfully tracked him down."
Among those that the woman has accused of assaulting her is Kerala Congress leader PJ Kurien, whose political career is now on the line. Mr Kurien, who is the Deputy Chairman of the Rajya Sabha, was not among the 35 men tried for the woman's rape by the High Court. In 2007, he was exonerated by the Supreme Court.
Dharmarajan added to Mr Kurien's troubles this week when he told regional TV channel Mathrabhumi from an undisclosed location that he had driven the Congress leader to the guest-house where the gang-rape survivor alleges she was assaulted by Mr Kurien. Dharmarajan alleged that he was pressured at the time by the Kerala Police not to testify against the Congressman.
The rape survivor has reiterated her allegation against Mr Kurien recently, triggering a chorus of demands from political opponents that Mr Kurien must resign. The 71-year-old Congress leader has so far said that multiple police investigations have proved him innocent and so there is no need for him to quit. But, as he met party president Sonia Gandhi on Thursday, reportedly to explain the charges of rape against him, speculation was rife that he could be asked to hand in his resignation.
In a week, Parliament meets for its budget session and one of the main points of discussion will be the new anti-rape laws introduced recently by the government. Many say that given the accusations against him, Mr Kurien cannot chair debates on the safety of women, a matter of national focus since December's fatal gang-rape of a student on a Delhi bus.