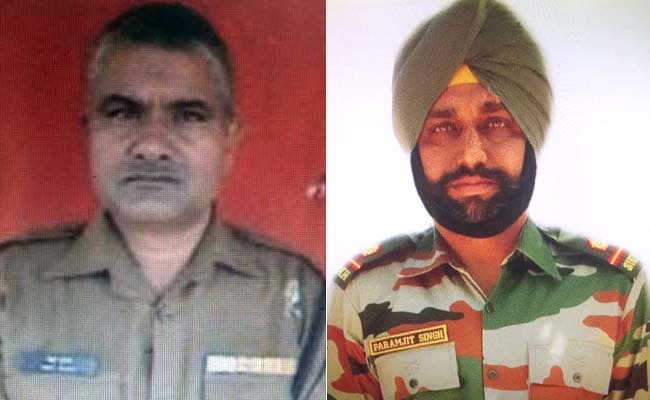 Highlights
Preliminary inquiries indicate trap was laid for the BSF team
Early inquiry also suggests involvement of Lashkar terror group
Pak has denied violating ceasefire; its army denied any hand in attack
New Delhi:
Were the two soldiers who were killed and mutilated at the
Line of Control in Jammu and Kashmir
on Monday morning drawn to the spot and then ambushed? Top sources said preliminary inquiries indicate that a trap could indeed have been laid for the Border Security Force team that had gone there to check on a snapped communication line.
Head Constable Prem Sagar and Naib Subedar Paramjeet Singh
, who belonged to the three-member team, were killed and their bodies were mutilated. The men behind the attack had crossed the Line of Control, which serves as a de facto border, under the cover fire of the Pakistani Army.
"It could have been a trap," said a top source. "It has to be established conclusively whether the lines were snapped due to Pakistani shelling or it was an act of sabotage," said another source.
While initial reports said the attackers belonged to Pakistan's Border Action Team, sources said early inquiry also suggests the involvement of Lashkar-e-Taiba, the Pakistan-based terror group.
"Information is being gathered on who exactly carried out the dastardly act - Pakistan army regulars or it was a Lashkar unit with tactical support from Pakistan army. But early inquiry suggests Lashkar," an official said.
Any involvement of Lashkar, even when they were assisted by the Pakistan army, will give Pakistan the benefit of "high deniability", say officials.
Pakistan has already denied violating ceasefire
and its army has denied having any hand in the attack. Calling India's allegation "false", Pakistan's Inter-Services Public Relation said in a statement, "Pakistan Army is a highly professional force and shall never disrespect a soldier, even Indian".
Union Minister Arun Jaitley has described the killings as "reprehensible and inhuman" and said such acts "do not take place even during war". The army has issued a warning, saying "such despicable act will be appropriately responded".