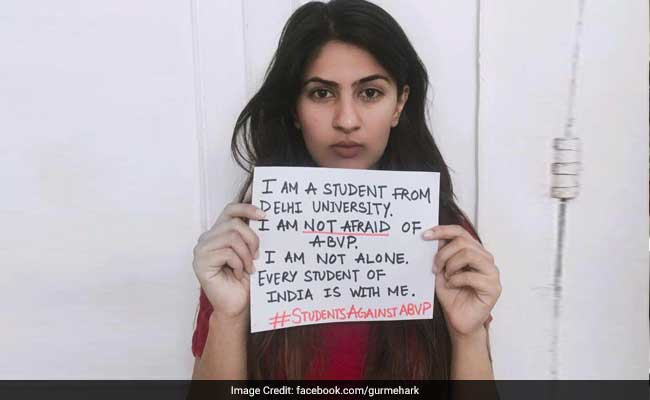 Highlights
Gurmehar Kaur is a student of literature at Lady Sri Ram College
She termed the attack on college students as 'very disturbing'
Her father, Mandeep Singh, was martyred in the 1999 Kargil War
New Delhi:
She spoke her mind on the attacks on Delhi University students in a 140-word Facebook post and a picture put out hours after the ABVP activists clashed with Ramjas College students this week. Three days later, the Kargil martyr daughter's social media campaign to protest the "tyranny of fear" unleashed at Delhi University has gone viral.
Over 20 students were injured on Wednesday
when ABVP activists clashed with students protesting the Ramjas College cancelling its invite to JNU's Umar Khalid - one of the students charged with sedition last year - for a seminar.
Later in the evening, Lady Sri Ram College student Gurmehar Kaur, posted her message and a profile picture holding a handwritten placard that read: "I am a student from Delhi University. I am not afraid of ABVP. I am not alone. Every student of India is with me. #StudentsAgainstABVP".
Gurmehar lost her father Captain Mandeep Singh in the 1999 Kargil War. She was only two, and,
as she once put it
, "grew up hating Pakistan and Pakistanis". At six, she tried to stab a woman in a burqa "because of some strange reason I thought she was responsible for my father's death".
That is when her mother made her understand that it was not Pakistan, but the war that killed her dad.
In her post, she called the brutal attack on innocent students by ABVP very disturbing.
"It was not an attack on protesters, but an attack on every notion of democracy that is held dear in every Indian's heart. It is an attack on ideals, morals, freedom and rights of every person born to this nation," the 20-year-old literature undergraduate said on Facebook.
"The stones that you pelt hit our bodies, but fail to bruise our ideas. This profile picture is my way of protesting against the tyranny of fear," she added in the post.
The voices of support started pouring in soon enough. Thousands shared her post, many showed their support by replacing their profile picture with a photograph holding a placard similar to hers.
There were abuses as well. One said she hadn't understood what her father had died for. Someone else called her an anti-national too.
She responded to this one: "Do we fight for 'anti-nationals'? No! What is our fight for? Students. Our right to free speech and safe academic spaces!"
The clash on Wednesday erupted over an invite to Jawaharlal Nehru University (JNU) students Umar Khalid and Shehla Rashid to speak at a seminar on 'Culture of Protests' which was withdrawn by the college authorities following opposition by the ABVP.
Junior home minister Mr Kiren Rijiju
has, however, insisted that "No anti-India slogans" would be allowed in the name of freedom of speech. "Freedom of expression in the country does not give anyone the right to make college campuses hub of anti-national activity," he said.