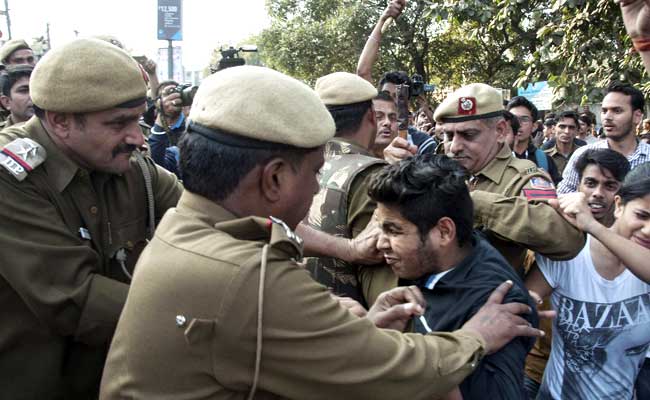 Highlights
Centre won't intervene, police will take action: Prakash Javadekar
Can't let colleges become 'hub of anti-national activity': Kiren Rijiju
Violence at Ramjas College on Wednesday between student groups
New Delhi:
The government appeared to speak in two voices over Wednesday's violent clashes in Delhi's Ramjas College. While union education minister Prakash Javadekar said he would not interfere in the row as the college is autonomous, his cabinet colleague junior home minister Kiren Rijiju said colleges cannot be allowed to become "hub of anti-national activity". At least 20 students and a teacher were injured after student unions linked to the Left and the BJP clashed over an invite for an event to Jawaharlal Nehru University student Umar Khalid, accused of sedition over an event last year where anti-India slogans were allegedly raised.
Here are the top 10 developments in this story:
Speaking to reporters at an event a day after the clashes, Mr Javadekar said, "How can we intervene? They are an autonomous university. Police will investigate and take required action. Nobody... neither the university, college administration nor the students have approached us for help so far."

However, Mr Rijiju did not seem to subscribe to such a hands-off approach. "No anti-India slogans will be allowed in the name of freedom of speech. Freedom of expression in the country does not give anyone the right to make college campuses hub of anti-national activity," he was quoted as saying yesterday.

The centre yesterday sought a report from the police over the incident.

The police, who say they are investigating the incident, suspended three constables for alleged excesses during the clashes where many complained that policemen allowed or themselves assaulted students, teachers and journalists.

Ramjas College had turned into a battleground on Wednesday as students of Left-affiliated All India Students Association (AISA) and the Akhil Bharatiya Vidyarthi Parishad (ABVP), linked to the BJP, armed with hockey sticks rained blows on each other, injuring many.

The clash erupted over an invite to Jawaharlal Nehru University (JNU) students Umar Khalid and Shehla Rashid to speak at a seminar on 'Culture of Protests' which was withdrawn by the college authorities following opposition by the ABVP.

As students from the Delhi University and JNU gathered outside the college to hold a protest march against ABVP's demands to call off the seminar.

But before the march could take off, ABVP members reached the spot and clashes broke out despite heavy police deployment.

Several policemen and journalists were also caught in the clashes.

Hundreds of angry students protested outside the Delhi Police headquarters yesterday demanding separate cases be filed on their complaints.