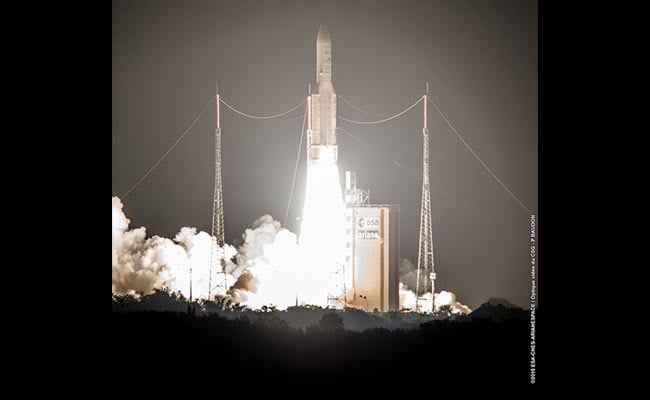 New Delhi:
The Indian Space Research Organisation has given the nation the most appropriate Diwali gift - An indigeneously made communications satellite GSAT-15. It was successfully launched at 03:04 am (IST) today, using one of the world's largest rockets - the Ariane-5. The launch took place from Kourou in French Guyana in South America.
The GSAT-15 satellite weighs 3164 kilograms and has been made at a cost of Rs 278 crores. It carries a suite of 24 transponders which will help in Direct-to-Home (DTH) broadcasting. It also carries a GPS-Aided GEO Augmented Navigation (GAGAN) payload operating in L1 and L5 bands, which will help in aircraft navigation.
The Ariane-5 rocket has been hired at a cost of approximately Rs 581 crores. An Arabsat communications satellite also accompanied the GSAT-15 on the same launch.
The GSAT-15 was launched into a Geosynchronous Transfer Orbit (GTO) after its co-passenger Arabsat-6B (BADR-7) was injected into space.
India currently has a shortage of transponders in space, with the Indian satellite system being able to handle just a third of the required capacity; The rest being leased from foreign satellite owners.
If India wants to benefit from the economic reforms announced yesterday, which allows foreign direct investment in non-news channels through auto route, Teleports, DTH and Cable Networks, ISRO needs have many more transponders in space.