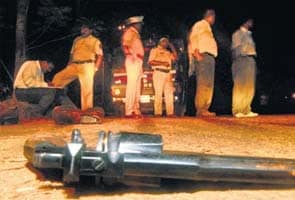 New Delhi:
The Supreme Court on Monday said the police personnel involved in fake encounter killings should be given death sentence and hanged.
A bench comprising of Justice Markandeya Katju and Justice C K Prasad said as custodians of law they are expected to protect people and not eliminate them as contract killers.
"Fake encounter killings by cops are nothing but cold-blooded brutal murder which should be treated as the rarest of rare offence and police personnel responsible for it should be awarded death sentence. They should be hanged," Justice Katju, heading the bench, said.
The court made these observations while directing the surrender of two senior Rajasthan IPS officers (Additional DGP Arvind Jain and SP Arshad) allegedly involved in the fake encounter killing of an alleged gangster, Dara Singh, by the Special Operations Group of Rajasthan Police on October 23, 2006.
The bench said if the accused police officers fail to surrender, they shall be arrested by the CBI, which is investigating the case.
"The same parameters will apply and the law shall take its own course," Justice Katju observed when counsel for Singh's widow Sushila Devi said that one of the accused Rajender Rathore, a former minister, was also absconding.
"If crimes are committed by ordinary people, ordinary punishment should be given but if the offence is committed by policemen, much harsher punishment should be given to them because they do an act totally contrary to their duties," the court observed.
The apex court had in April last year directed a CBI probe on an application moved by Sushila Devi accusing the Rajasthan Police of abducting her husband, killing him in cold blood and passing it off as an encounter.
According to the Rajasthan government, Dara Singh was a proclaimed criminal and had a reward of Rs 25,000 on his head.