Highlights
16-year-old Junaid Khan murdered by mob on train last week
Mob accused him and his 3 companions of carrying beef
Cops examine CCTV of bikers in village where he was thrown off train
New Delhi:
CCTV footage of three men riding a bike, one of them with a bloodied bandage on his head, was shown today to the relatives of 16-year-old Junaid Khan, who was stabbed to death by a mob on a train last week who accused him and his three companions of carrying beef in their bags. Junaid, his brother Haseeb and their two cousins were slashed with knives on Thursday evening before the teen was thrown off the train at a station at Asauti, just 30 kms from Delhi. The sarpanch or chief of the village council of Asauti gave the police footage of three men on a bike.
The video from security cameras at a community centre, near the Asauti railway station, was shown to Junaid's brother who says that based on the bikers' clothes (their faces are fuzzy), he believes they were among the attackers.

So far, one man has been arrested for Junaid's death, though the survivors of the attack say murderous mob had at least 20 members.

Demonstrations planned for tomorrow in different cities by citizens will protest against the lengthening list of mob attacks against people accused of killing cows or eating beef. Yesterday, Law Minister Ravi Shankar Prasad described Junaid Khan's murder as "painful and shameful" and said the government will not tolerate such attacks.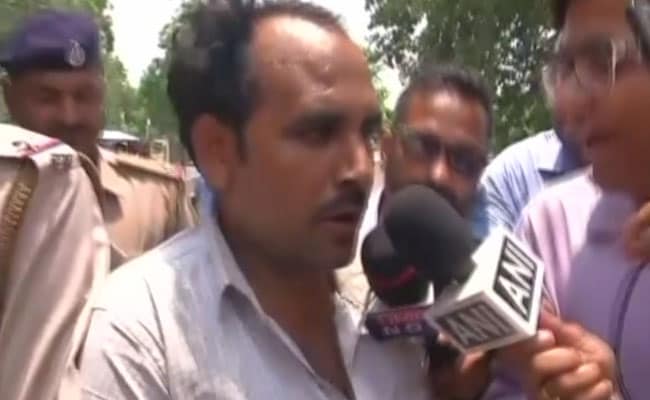 Ramesh, who uses only one name, told the police after his arrest on Saturday that he was drunk when he attacked the young Muslims and that the group of passengers incited him by declaring them "beef-eaters." He was arrested by the police after he was found inebriated near the station where Junaid was thrown off the train.
Though the train that was traveling from Delhi to Mathura was packed when the violence erupted, not one witness has been located by the police.


Junaid and the others who were attacked were travelling back to their village in Ballabhgarh after a visit to Delhi to shop for Eid. A group of men accused them of having beef in their bags. Haseeb, in his police complaint, said religious slurs were yelled at them; his skull cap was pulled off his head, his beard was pulled.
The police first said that the fight broke out over seats in the compartment.