New Delhi:
Highlights
Ravi Shankar Prasad says Junaid's killing 'extremely painful, shameful'
If anyone indulges in violence, law will have to do its job: Mr Prasad
Junaid was killed by a mob on a train from New Delhi to Mathura
The killing of a
16-year-old boy by a mob
that accused him and his brothers of carrying beef is "extremely painful and shameful" said union Law Minister Ravi Shankar Prasad today, stating that the government will not tolerate such attacks.
The minister said that investigations were on into the mob murder of the young boy Junaid Khan and that a reward has been announced for those who help with the probe. "It's very unfortunate that someone who was intoxicated - through him this was carried out...Our government will not tolerate this," he said.
The government, Mr Prasad said, "is very clear that if anyone indulges in violence, then the law will have to do its job. If someone commits a murder, the law is very strict - you can face capital punishment or be imprisoned for life. So the need is to enforce the law with honesty." He also condemned the mob killing of a senior police officer outside a mosque in Jammu and Kashmir capital Srinagar last week.
The minister pointed out that Prime Minister Narendra Modi has said to those "who indulge in violence in the name of gauraksha (protecting the cow), hit me instead."
PM Modi had said last year
, "Fake
gau rakshaks
have nothing to do with cows. They want to foment tension in the society. Find out who these fake
gau rakshaks
are and take tough action against them."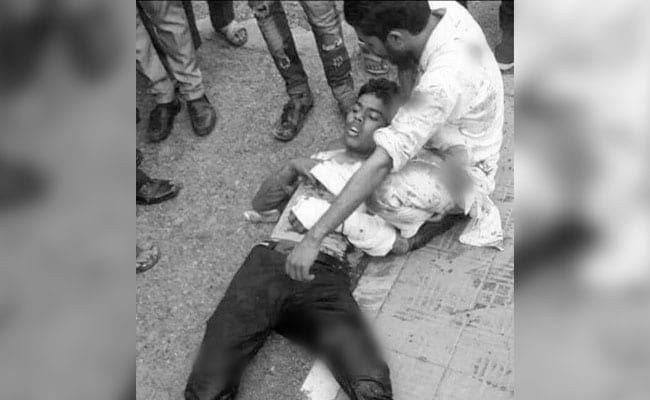 Junaid Khan was travelling with three others in a train after shopping for the Eid festival in Delhi, when a fight erupted over seats, the police said. Between 15 and 20 men pulled out knives and set upon the brothers while making anti-Muslim comments and insisting that one of the packets they were carrying contained beef.
While Junaid was stabbed to death, one of his brothers, Shakir, has injuries on the throat, chest and hands, police said.
One man has been arrested
on Saturday and Haryana's Chief Minister ML Khattar has said efforts are on to arrest more of the attackers.
"The fight started over seats. We are looking into the matter and we have arrested one of the accused who is a 35-year-old old man from Haryana," Ajay Kumar, a railway police official said.
"They killed him in cold blood," said Junaid's brother Hassem, 20, recalling that the mob ignored their repeated pleas that they were not carrying any beef. "All of a sudden, a group that had boarded the train from Okhla station pushed my brother Junaid and he fell down...When Junaid and I asked why they were pushing, they pointed to the skull cap on my head. They said we are Muslims, anti-nationals, Pakistanis, that we eat beef. Then they pulled my cap, threw it down and they also tried to pull my beard," he said, his voice choked.
In their village in Haryana today, adjacent to the national capital, there was no Eid joy. Residents offered prayers in black bands to protest against Junaid's murder. His family has disputed the police's claim that a dispute over seats led to an altercation.
"My son was targeted because of his religious identity," said Junaid's father Jallaludin Khan.
Attacks by cow vigilantes on people they accuse of carrying beef or smuggling cows have been on the rise. In April, a Muslim dairy farmer was lynched in Rajasthan for allegedly smuggling cows.
Get Breaking news, live coverage, and Latest News from India and around the world on NDTV.com. Catch all the Live TV action on NDTV 24x7 and NDTV India. Like us on Facebook or follow us on Twitter and Instagram for latest news and live news updates.