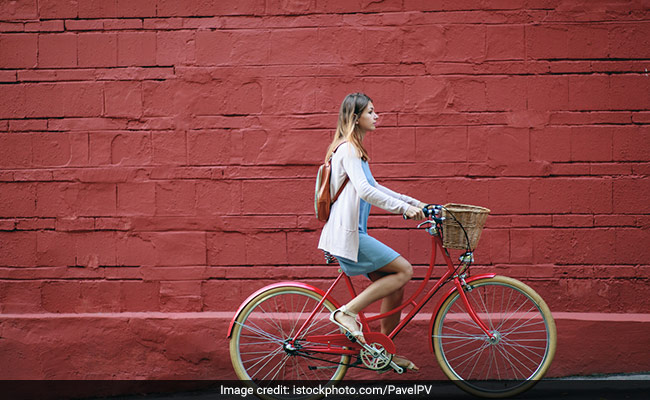 According to the study published in the journal Environmental International, People who commute -- walking or cycling- through natural environments are more likely to develop better mental health than those who commute less. Natural environments included all public and private outdoor spaces that contain 'green' and/or 'blue' natural elements such as street trees, forests, city parks and natural parks or reserves and all types of water bodies. As per the researchers, mental health and physical inactivity are two of the main public health problems associated with the life in urban environments. Urban design could be a powerful tool to confront these challenges and create healthier cities. One way of doing so would be investing in natural commuting routes for cycling and walking.
For the study, the research team examined nearly 3,600 participants who answered a questionnaire about their commuting habits and their mental health. The findings showed that respondents commuting through natural environments on a daily basis had on average a 2.74 point higher mental health score compared to those who commuted through natural environments less frequently. This association was even stronger among people who reported active commuting, the team said.
According to the researchers, from previous experimental studies they knew that physical activity in natural environments can reduce stress, improve mood and mental restoration when compared to the equivalent activity in urban environment.
Diet and nutrition tips to keep in mind to keep your mental health in check:
Do not skip breakfast. Breakfast is needed to fuel your body (including your brain) after going without food during sleep and also helps kick-start your metabolism for the day. Skipping meals will only lead to fatigue and feelings of brain fog.
Avoid high-fat dairy, and fried, refined and sugary foods, which have little or no nutritional value. Not only do they cause weight gain, they may also develop conditions like diabetes, et al. Eat a diet that is rich in fruits and vegetables, whole grains, fish, et al.
It is said that rates of depression are higher in people with vitamin D deficiency compared to people who have adequate levels of vitamin D. So load up on vitamin D rich foods like mushrooms, milk, dairy products, et al.
Omega-3 fatty acids may be helpful in managing depression and seem to have a mood stabilising effect. So load up on foods like fish, olive oil, fresh basil, et al.