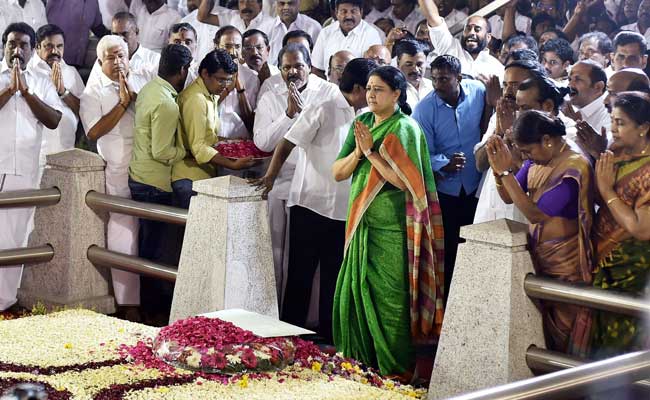 Highlights
Sasikala expected to surrender today, will spend 4 years in jail
Inducts relatives expelled by Jayalalithaa back into AIADMK
Appoints nephew party's deputy general secretary
Chennai:
Time up, VK Sasikala must surrender in Bengaluru right away, the Supreme Court has told the AIADMK chief, whose lawyers appealed for more time. Ms Sasikala is still in Chennai and will travel the 345 km to Bengaluru by road today escorted by the police from both Tamil Nadu and Karnataka to begin a four-year prison term ordered yesterday by the top court in a corruption case. She is likely to visit Jayalalithaa memorial at Chennai's Marina beach before heading towards Bengaluru. This morning, she has inducted her nephews TTV Dinakaran and S Venkatesh into the party. Mr Dinakaran, who was expelled from the party by J Jayalalithaa in 2011, has been appointed deputy general secretary of the AIADMK ensuring that Ms Sasikala will have control of the party from jail. The court verdict ended her plans to become Tamil Nadu's next chief minister and Ms Sasikala, who received the news from Delhi at a five-star beach resort 80 km away from Chennai, returned to her Poes Garden residence in the state capital late last night after presiding over the election of her loyalist Edappadi K Palanisamy to lead the ruling party in the state assembly, in a bid to ensure that her rival O Panneerselvam does not continue in the top post. Mr Palanisamy met the state's governor on Tuesday to stake claim to form government.
Here are the 10 developments in this big story:
"Do you know the meaning of the word immediately?" the Supreme Court asked today when Ms Sasikala's lawyers sought more time for her surrender pleading that she is unwell. Ms Sasikala is expected to surrender by this evening.

At her sprawling Chennai residence Ms Sasikala asked party workers to "cooperate" with her nephew the new deputy chief. Justifying Mr Dinakaran's return to the party only two months after Ms Jayalalithaa died, Ms Sasikala said he has "apologised in writing and in person".

Over 120 AIADMK legislators are reportedly still at the Golden Bay Resort in Mahabalipuram, where they have been sequestered by Ms Sasikala for over a week now. "Rumours that many MLAs are running away are all lies. There are 125 MLAs at the resort and we will leave this place only after the governor invites Palanisamy to form government," said legislator Ilambai Thamilchelvan, accusing Mr Panneerselvam or OPS of "cooking up a lot of stories."

Mr Panneerselvam, who had resigned last week and was asked to continue as interim chief minister, too has staked claim to the top post and alleges that the party's legislators have been held "captive" at the resort by Ms Sasikala. If allowed to choose freely, many will support him, he has said.

Only 11 of the AIADMK's 134 legislators have so far publicly supported Mr Panneerselvam, but his camp alleges that at least 11 more have been in touch from the resort to say they want to join him but are being pressured to stay at the resort.

If Mr Panneerselvam can get 11 more MLAs to join him, E Palanisamy of the Sasikala camp will struggle to reach the 117 needed for a majority in the state assembly. In a letter to the legislators he has urged them to "sink differences, work together and keep the party united to continue Amma's good rule." He dispatched a team to the resort to convince the MLAs that the party must not split, but the police stopped them enroute.

At Jayalalithaa's memorial at Chennai's Marina Beach last night, her niece Deepa Jayakumar joined Mr Panneerselvam and said, "Mr Panneerselvam and I will act as a pair of hands of the AIADMK."

The Supreme Court has upheld a trial court verdict sentencing Ms Sasikala to four years in prison for conspiring with and abetting former Tamil Nadu Chief Minister J Jayalalithaa in her "sinister" plan to "launder ill-gotten wealth" worth about 60 crore. The court's verdict means that Ms Sasikala cannot hold public office or contest elections for 10 years, the period of her jail term plus six years after that.

Ms Sasikala, the closest companion of Ms Jayalalithaa who died in December last year, was asked by the court to surrender immediately. She and two others convicted, both her relatives, have also been fined 10 crore each.

Ms Sasikala will be jailed in Karnataka as the disproportionate assets case, which dates back to the 1990s, was shifted out of Tamil Nadu. In 2014, Ms Jayalalithaa and Ms Sasikala had spent 22 days in a Bengaluru jail before they were granted bail. The Karnataka High Court had later acquitted both and the Karnataka government appealed against the acquittal in the Supreme Court.