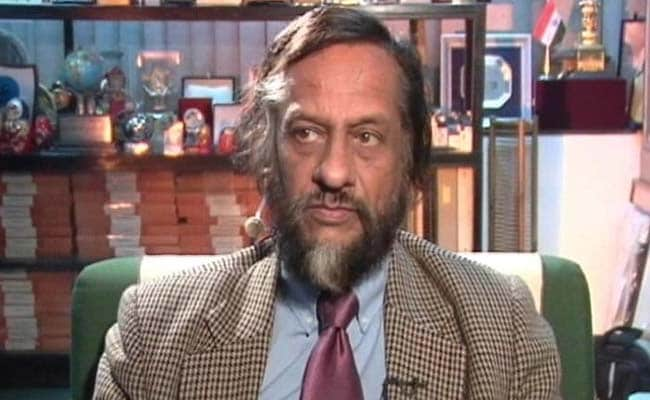 New Delhi:
Rajendra Pachauri, industrial engineer-turned head of the UN's climate science panel and one-off sex novel author, is no stranger to accolades - nor to controversy.

At his peak, the 74-year-old accepted the Nobel Peace Prize on behalf of the policy-shaping body he heads, and was showered with national honours and honorary doctorates.

On Tuesday, he stood down as head of the Intergovernmental Panel on Climate Change (IPCC) following allegations that he sexually harassed a 29-year-old woman researcher from The Energy and Resources Institute (TERI), the think-tank that he heads in Delhi.


The allegations have forced the father-of-three, who denies any wrongdoing, to pull out of a four-day conference at a highly sensitive time, with the global community preparing to ink a planet rescue pact in December.
Mr Pachauri, a vocal advocate of tough action against global warming, has had many career ups and downs, and this is not the first time he has faced public scrutiny.
He had to weather calls for his resignation after gross errors were found in a landmark IPCC report, and faced widespread ridicule for an attempt at erotic literature.
In 2007, he held aloft the Nobel jointly awarded to the IPCC under his chairmanship, and to former US vice president-turned climate campaigner Al Gore. But three years later, Mr Pachauri was mired in controversy when errors were found in the IPCC's Fourth Assessment Report.
An erroneous claim that Himalayan glaciers could be lost by 2035 was allegedly taken from a press article instead of a scientific study.
Mr Pachauri refused to accept personal responsibility for the error and rejected pressure to step down, claiming "ideologically-driven posturing" was behind attacks on the IPCC.
An international review at the time called for fundamental reforms at the IPCC, including an overhaul of the post of chairman which Mr Pachauri first took up in 2002.
Some critics have questioned where his loyalties lay, given his business dealings with carbon trading companies. According to a CV on the TERI website, Mr Pachauri had during his IPCC tenure also served on the boards of India's Oil and Natural Gas Corporation and natural gas company GAIL.
Educated in Britain and the United States, where he earned doctorates in industrial engineering and economics, Mr Pachauri is a sustainable development veteran. But his critics, who once included Vice President Gore, stress that he has no science qualifications.
Having penned more than 130 academic papers and nearly 27 books, mainly related to energy and the environment, Mr Pachauri generated warming of a different kind when he tried his hand at creative writing with the 2010 novel "Return to Almora". The offering is laced with steamy references to the sexual urges of protagonist Sanjay Nath who, like the author, studied engineering. He has hinted that the book, which interweaves themes of reincarnation with breathless accounts of Nath's carnal prowess, may be based on his own life.