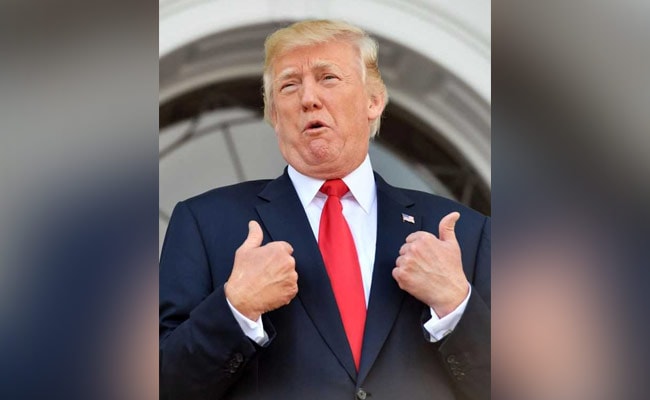 New Delhi:
Could US President Donald Trump's Twitter account be suspended for "threatening violence" against North Korea? That's the question actor Kal Penn wants answered. Over the last 24 hours, a number of Twitter users have been reporting the US President's personal account, @realDonaldTrump, on the micro-blogging site, saying he threatened violence against North Korea in a tweet.
On Friday, Mr Trump tweeted that US military solutions were "fully in place, locked and loaded, should North Korea act unwisely."
Military solutions are now fully in place,locked and loaded,should North Korea act unwisely. Hopefully Kim Jong Un will find another path!

— Donald J. Trump (@realDonaldTrump) August 11, 2017
Critics, including the Indian-origin actor, suggest this tweet is a threat of violence, and hence, a violation of Twitter's clearly stated terms of service:
Hey @Twitter, is threatening nuclear war not a violation of terms of service? https://t.co/Gwz2EZHKnu

— Kal Penn (@kalpenn) August 11, 2017
Seems pretty clear that you can't threaten mass murder via nuclear war, right @twitter? Asking for 7.4 billion friends. pic.twitter.com/333QtnECc4

— Kal Penn (@kalpenn) August 11, 2017
Many seem to agree with Kal Penn, who previously worked with former US President Barack Obama:
Threatening nuclear war on Twitter feels like a terms of service violation

— Pablo S. Torre (@PabloTorre) August 11, 2017
Boom. pic.twitter.com/xZmMU5CbYv

— J. P. Dailing (@jpdailing) August 11, 2017
I reported this tweet for attempting to instigate a thermonuclear war. https://t.co/fT1DHCk5rr

— Tom Wellborn (@TomWellborn) August 11, 2017
Cmon Twitter. It's time.... pic.twitter.com/dxN0YTHV4J

— Pete Souza (@PeteSouza) August 11, 2017
You are right @PeteSouza. pic.twitter.com/2xuAEUKDy9

— Jacqueline Herrera (@JLH_23) August 11, 2017
Projected onto #Twitter HQ in San Francisco. pic.twitter.com/UAw05vfjwk

— Marling (@AEMarling) August 12, 2017
Yes but maybe one day Twitter will do something if it's en masse

— Michelle Donaldson (@MichBrooksDon) August 11, 2017
Some, however, are not convinced there's any threat of violence in Mr Trump's tweet:
Nobodies going to fire a nuke, just a scare tactic.

— Matty Musgrove (@MattyMusgrove) August 11, 2017
I didn't read "nuclear war" once in that tweet

— Mat Shuster (@The_realShuster) August 12, 2017
Mr Trump's Twitter missteps (remember '
covfefe
') frequently make headlines and while some have previously called for Mr Trump's account to be
suspended, even banned
, it seems highly unlikely Twitter will actually act on these requests.
"We do not comment on individual accounts, for privacy and security reasons,"
Mashable
quotes a spokesperson from Twitter as saying, when asked about the latest controversy.
With over 35 million followers on the micro-blogging site, Mr Trump is one of the most active politicians on Twitter. He is the first US president to use his personal Twitter account, @realDonaldTrump, in addition to his official handle, @POTUS.Click for more
trending news