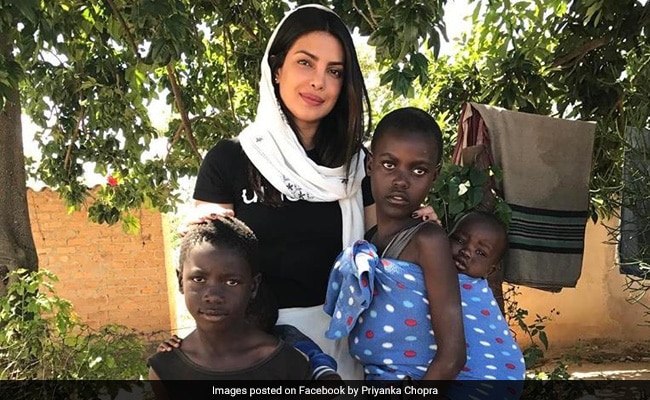 New Delhi:
Priyanka Chopra - bona fide superstar, fashionista and UNICEF Goodwill Ambassador. The actor is currently travelling to Zimbabwe and South Africa to promote UNICEF's initiative to end violence against children. She has been sharing pictures and videos of her meetings with young survivors of sexual abuse, the adolescent-led peer groups that help rehabilitate them along with their tireless adult mentors on social media. These are "the teams that wake up every day and try to make the world a better place... one child at a time," Priyanka writes on Instagram.
One video has struck many as particularly moving. As Priyanka poses for pictures with a group of young people, many of them begin stroking her long, silky hair.
A giggling Priyanka says, "Very fascinating my hair is, thank you."
"It's nice - it's different from ours," says one girl. "Less kinky"
"Yeah, but mine is too straight," replies Priyanka, earnestly. "Yours is so nice and pretty and curly."
"It's not," laments the girl, with a frown on her face.
"Yes, it is," insists Priyanka. "It's beautiful."
"No, yours is beautiful, ours is kinky"
"By the way, it's different - beautiful," someone off-camera interjects. "You guys have beautiful hair."
"It's really pretty, don't let anybody tell you it's not," says Priyanka.
Watch the full clip here:
"It was so funny being petted!! It lasted a good 10 minutes (sic)...We are all beautifully different in so many ways. Don't let anyone ever tell you that you are less," a caption accompanying the video reads.
The 42-second clip has been viewed over 580,000 times on
Instagram
and over 155,000 times on
Facebook
since being posted less than 24 hours ago.
"So glad you told her that her hair is pretty. Being different is beautiful, too," comments one person on the video.
"We're all humans and you always remember this...well done Priyanka," writes another.
"I really love what you are doing for charities...but this was a disappointment...you are plugging Pantene with a hashtag...Seriously," chides one person.
Having served as a UNICEF national Ambassador in India for nearly 10 years, Priyanka was appointed as a UNICEF global Goodwill Ambassador in December 2016.
Click
here for more trending stories
.