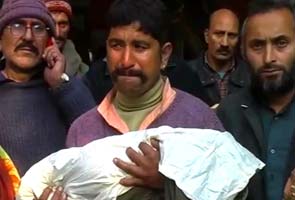 Doda, Jammu:
In yet another case of alleged medical negligence in Jammu, a one-year-old girl died in a hospital on Thursday after she was allegedly denied treatment for five days.
The child was brought to the Government Medical College in Doda by her parents on December 8 complaining of a maize seed stuck in her throat. For five days the baby's father was allegedly sent from one doctor to another but nobody offered to help the little girl.
The father was finally sent to a senior doctor who promised to operate on the one-year-old but allegedly never turned up for the operation the next day.
After the baby's family wrote to Chief Minister Omar Abdullah asking for an investigation and punishment for those responsible, the Jammu and Kashmir government ordered a probe into the child's death.
The Heads of Department of Paediatrics and ENT of the Government Medical College will enquire into the death and submit a detailed report within three days for further action, an official spokesman said.
(
With inputs from PTI
)