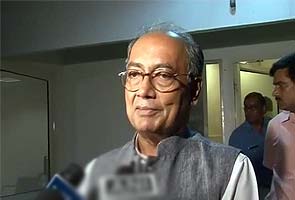 New Delhi:
A Delhi court will pronounce its order on whether Congress General Secretary Digvijaya Singh should be summoned in a defamation case filed against him by BJP President Nitin Gadkari.
Metropolitan Magistrate (MM) Sudesh Kumar had on October 16 reserved his order on Mr Gadkari's complaint after recording the statements of two witnesses.
The court had recorded the statement of Mr Gadkari and BJP National Secretary Bhupinder Yadav, also a Rajya Sabha MP.
Mr Gadkari has filed the criminal defamation case against Mr Singh, who has accused him of having business links with his party MP Ajay Sancheti who allegedly pocketed a huge sum in coal block allocation.
Mr Gadkari, in his statement recorded in the court, had denied having any business ties with Mr Sancheti and had said that Mr Singh had levelled "totally false and defamatory" allegations against him to "give the impression that I have been responsible for allocation of coal mines" to Mr Sancheti.
In his petition, filed through advocate Ajay Digpaul, Mr Gadkari has sought Mr Singh's prosecution under sections 499 (defamation) and 500 (punishment for defamation) of the Indian Penal Code.
In his complaint, Mr Gadkari had said that the Congress-led UPA government is facing a lot of heat on account of its irregularities as brought out by the Comptroller and Auditor General of India (CAG) in coal blocks allocation and accused Mr Singh of making baseless allegations against him to divert attention from the issue.