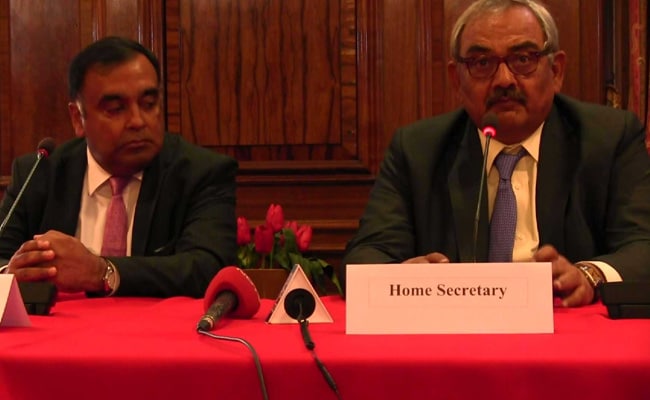 London:
Even though India's endless wait to
bring back flamboyant businessman Vijay Mallya
, who is nesting in London, continues, and even though there has been only one extradition from the UK to India since the Extradition treaty was signed in 1992 between the two countries, the Indian Home Secretary said that the agreement is "working just fine".
"The treaty does not need to change and we have not put in any request to change it," said Home Secretary Rajiv Mehrishi, who was on a week-long visit to London to meet his British counterpart as part of the India-UK Home Affairs Dialogue.
He, however, stressed the need to expedite extradition requests soon. "We have successfully extradited one person, Samirbhai Vinubhai Patel, who was wanted in a case related to the 2002 Gujrat riots, last year," he added.
India is currently fighting the case of extradition of Vijay Mallya, owner of the now defunct Kingfisher airlines in a money laundering and loan default case filed by both the Central Bureau of Investigation (CBI) and the Enforcement Directorate. The formal hearing in the extradition case will begin on December 4.
India has made several extradition requests since the treaty was signed. Among those who are wanted here but are currently based in the UK, include Ravi Sankaran, wanted in the navy war room leak case; f
ormer IPL chief Lalit Modi for money laundering;
Tiger Hanif, in connection with bomb attacks in Gujarat in 1993; and music director Nadeem Saifi in the Gulshan Kumar murder case.
"Mr Mallya's case is sub judice. The issues around extradition discussed during the meetings only focused on any difficulties that may arise in extradition cases in general," Mr Mehrishi told reporters at the Indian High Commission.
Mr Mallya, who owes nearly Rs 9,000 crore to various Indian banks, has been in the UK since March 2016 and was arrested by Scotland Yard on an extradition warrant on April 18. Out on a bail, the 61-year-old liquor baron is fighting the extradition case in a UK court. He had fled India on March 2 last year.
Besides extradition, the two top officials discussed key issues such as counterterrorism, illegal immigration, visa issues for students and IT professionals from India.
"It's getting difficult to get visas for the UK, especially for students. This issue was raised in a fairly detailed manner. A request to stretch the deadline to clear the entrance tests and extend the post study work visa has also been put in," he said.
The UK raised the issue of illegal immigration from India. "We made it clear that it is a matter of policy for India that anybody identified as an Indian who is illegally in the UK, we will expedite his or her return," Mr Mehrishi said.
The India-UK Home Affairs Dialogue was set up during British Prime Minister Theresa May's visit to India in November last year. The first meeting took place in New Delhi in May.
(With inputs from PTI)