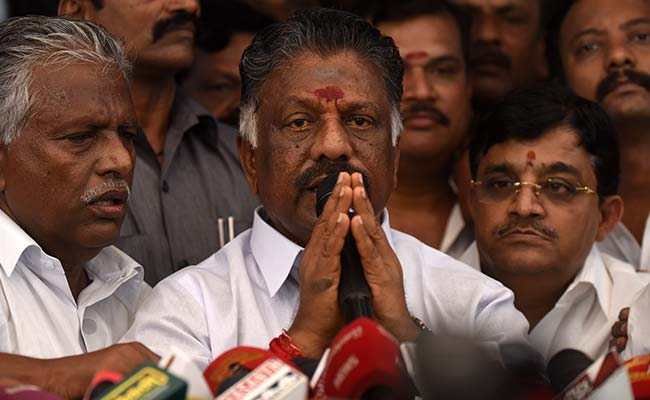 Highlights
Tamil Nadu ruling party was fissured after Jayalalithaa's death
Merger was expected this evening with announcement at her memorial grave
2 sticking points: Probe into her death, action against aide Sasikala
Chennai:
Despite elaborate flower arrangements and expectant party members waiting at the shoreside memorial of J Jayalalithaa in Chennai, the merger of the two rival factions that were formed in her party after her death ran into last-minute glitches: Chief Minister E Palaniswami and his predecessor, O Panneerselvam, or "EPS" and "OPS" in popular parlance, remain trapped in negotiations eight months after the death of Ms Jayalalithaa, referred to as "amma" or mother by a smitten public and party workers.
Here is your 10-point cheat-sheet to this big story:
The merger was expected this evening after Chief Minister EPS agreed yesterday to OPS' unwavering demand for an investigation into how Ms Jayalalithaa died after nearly two months in hospital. But OPS wants a serving judge and not a team headed by a retired judge to examine the events that led to Ms Jayalalithaa's demise while she was still Chief Minister.

Doctors at the time denied reports of poisoning alleged unsubtly by OPS and his aides. They suggested that Ms Jayalalithaa's death was suspicious because any access to her was controlled by her long-time live-in aide, VK Sasikala, dubbed "Chinamma" or mother's younger sister.

The other sticking point is OPS' insistence that Ms Sasikala be expelled and not just sidelined by EPS. She is currently the party's most senior official with the title of General Secretary, the status held by Ms Jayalalithaa for nearly 20 years.

Ms Jayalalithaa's death after a cardiac arrest led to Ms Sasikala taking control of the AIADMK. She chose OPS, who was a regular understudy for Ms Jayalalithaa while she was alive, to serve as Tamil Nadu's Chief Minister. Weeks later, he announced his resignation, paving the way for Ms Sasikala to become Chief Minister.

But in February, at the same memorial where today's reconciliation was expected to be announced, OPS emerged to accuse Ms Sasikala of forcing him to quit. He said Amma's spirit had ordered him to fight back. He then won the support of about 10 leaders of the party including state legislators.

Ms Sasikala's plans to run Tamil Nadu as head of the government were flatly extinguished by the Supreme Court declaring her guilty of corruption along with Ms Jayalalithaa in a case dating to the 1990s. Before she entered prison, Ms Sasikala ensured that her loyalist, EPS, became Chief Minister.

To guarantee he would win the trust vote, Ms Sasikala bused the vast majority of AIADMK legislators to a five-star resort, provoking accusations of kidnapping and coercion.

Ms Sasikala's big mistake was in naming her nephew, TTV Dhinakaran, as the party's no 2. His entourage of corruption cases was flagged by the public in social media campaigns and elsewhere.

EPS recently said that Mr Dhinakaran's appointment is not kosher but OPS wants him and Ms Sasikala to be ejected from the party. OPS has accepted that he does not have the backing to push himself as Chief Minister. His aides said today that EPS has offered him the chance to chief the AIADMK, which he will consider over the next few days.

A reunion between EPS and OPS would make them much stronger in fighting Mr Dhinkaran, who held a rally this week with nearly 20 AIADMK legislators by his side to signal his strength ahead of crucial local body elections in Tamil Nadu.