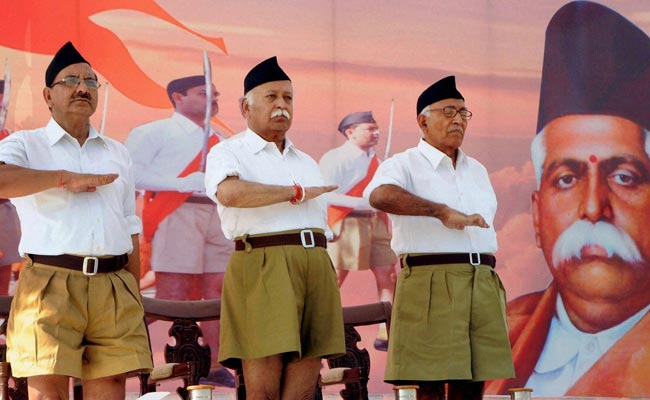 BHOPAL:
There has been no end to darts flung at Congress vice president Rahul Gandhi
for his 'women in shorts' comment. Several BJP leaders have condemned the remark and union minister Smriti Irani too weighed in,
calling it indecent and derogatory to women
. On Wednesday, it was the turn of the ruling BJP's ideological mentor, Rashtriya Swayamsewak Sangh, or RSS, to take a swipe at the Congress leader.
Senior RSS leader Manmohan Vaidya
said Rahul Gandhi was asking the wrong questions and comparing apples with oranges.
The problem is Mr Gandhi's speech writers don't understand the Sangh. He should get new, more intelligent writers for his speeches, Mr Vaidya said on Wednesday evening in Madhya Pradesh capital Bhopal where top leaders of the RSS are to hold a three-day meeting beginning Thursday.
Rahul Gandhi
on Tuesday had targetted the BJP and the RSS at one of his programmes during
his Gujarat tour in the run-up to the assembly elections
, telling a gathering of women that the BJP wasn't interested in women's rights.
"How many women are in the RSS? Have you ever seen women in shorts working with RSS? I have never seen. You see women in the Congress all the time. In the RSS you will never see women. God knows what mistakes women have committed that they cannot be a part of RSS," Mr Gandhi said.
It is like going to a men's hockey match and trying to look for women players. If you want to see women players, you have to go to a women's hockey match, Mr Vaidya, the RSS publicity department in-charge, responded.
"The Sangh had decided long back that it will work in the midst of men, and it has the right to decide this," he said, adding that the RSS only had camps for men but this did not mean it did not work with women.
On Rahul Gandhi's attempt to compare the presence of women in the Congress to the RSS, Mr Vaidya said the RSS could not be compared with any political party.
Trying to do that is like to trying to hold a competition between two sides, one playing cricket and the other side, hockey. If two sides have to compete, both have to be playing the same game, he said, directly Mr Gandhi to compete with the BJP.
Mr Vaidya went on.
"I don't know whether Rahul has asked the question because he was concerned for the Sangh or women," he said, telling the Congress vice president not to worry about the RSS but expanding his party's shrunk political base.