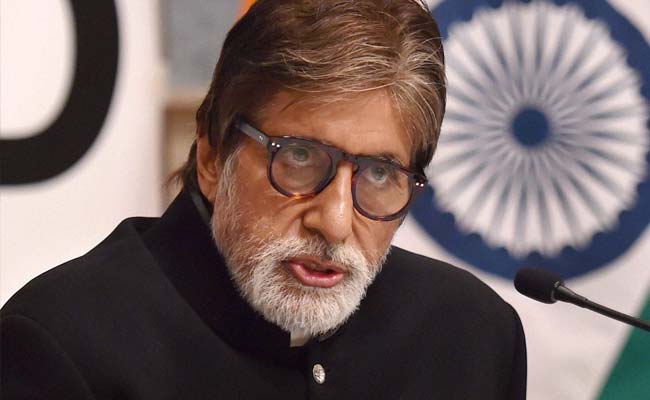 Highlights
Amitabh Bachchan part of event for government's 2-year anniversary
Actor being investigated after naming in Panama Papers, says Congress
Inquiry is independent, says government. Actor Rishi Kapoor agrees.
New Delhi:
The Congress' "mental disability" has impelled its
attack on the government for featuring actor Amitabh Bachchan prominently in an event to mark the second anniversary of Prime Minister Narendra Modi
in office, said the ruling BJP.
Mr Bachchan also got support from actor Rishi Kapoor, who recently attacked the Congress for obsessively naming public property after members of its first family, the Gandhis. "Are the Gandhis jealous that Amitabh Bachchan is doing something for the other government?" he said.
The Congress said today that Mr Bachchan should have been excluded from a
five-hour-long cultural gala planned at India Gate in Delhi
on Saturday because the Panama Papers, which out people with offshore accounts in tax havens, have named the superstar.
Mr
Bachchan has earlier denied that he violated the country's laws to park money abroad
. Like the other Indians named in the Panama Paper, he has been asked to furnish a response after Prime Minister Narendra Modi ordered an inquiry.
Mr Bachchan's son, Abhishek, also an actor, said the 73-year-old is not hosting Saturday's event, but is handling a section devoted to promoting the rights of the girl child. The PM and senior ministers are expected to attend the program.
"The participation of Amitabh Bachchan and the investigation with regards to Panama Papers, certainly, it will not have any connectivity. Investigation will be done by an independent agency, they will take care of things," said Law Minister Sadananda Gowda.
BJP spokesperson Shahnawaz Hussain suggested the Congress is "jealous" of Mr Bachchan's remarkable popularity, especially compared to the meagre appeal of its vice president, Rahul Gandhi.
Mr Bachchan was a close friend of Rahul Gandhi's father, Rajiv, but they were later estranged by the late the Bofors scandal, which saw both men accused of accepting kickbacks in the late 80s in exchange for a contract for the Swedish gun.
BJP secretary Shrikant Sharma said the Congress' attack Congress "only reflects its mental disability" as its own top leaders are entangled in scandals of corruption.