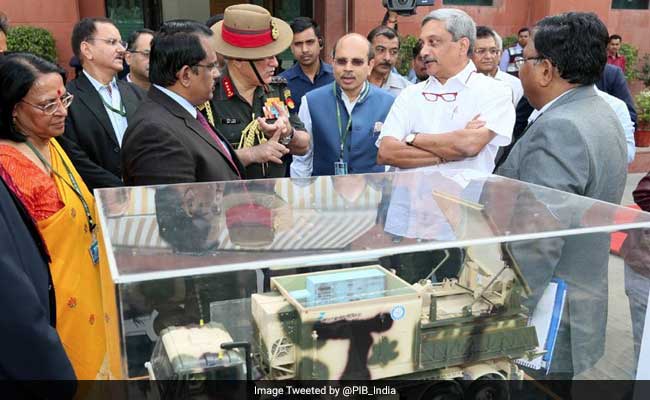 New Delhi: A host of technologies - meant to counter the threat of nuclear, chemical and biological warfare -- developed by India's defense research organization DRDO were handed over to the army on Thursday. The technologies also included India's first indigenously made weapons locating radar and a number of drugs to combat radiation sickness and minimize the effects of chemical warfare. Speaking on the occasion, Defence Minister Manohar Parikkar said, "We should be prepared for any kind of warfare" adding that the radar could even be used to bring down firing at the Line of Control. Army chief Bipin Rawat was also present on the occasion.
Here are the 10 facts in this big science story:
India's first weapons locating radar Swathi was handed over to the army on Thursday. The radar provides fast and accurate location of enemy artillery including shells, mortars and rockets.
It is also capable of guiding fire from an artillery gun attached to it, meaning thereby that the radar can not only locate artillery guns on the enemy side but also ensure their destruction.
The need for this weapons system was felt during the Kargil war, when Pakistan's artillery rained fire from the skies.
Swathi could be a great help to stop the adversary using heavy artillery fire from 50 km range, Defence Minister Manohar Parrikar said. "If the Line Of Control is devoid of heavy artillery, then Swathi has done its job," he added.
As part of preparedness for a nuclear attack, defense scientists have also developed a special vehicle -the Nuclear, Biological, Chemical Reconnaissance Vehicle or NBCRV - which was handed over to the army.
The vehicle can enter any contaminated area, collect samples and identify if chemicals like nerve agents have been used there. DRDO chairman S Christopher said it can also "detect radiation levels and mark out contaminated areas to save lives".
A slew of drugs to combat radiation sickness and minimize the effects of chemical warfare have also been developed to help the soldiers.
The Defence Minister said, "You have to be ready for any disaster and it is part and parcel of any disaster, these are pre-arrangements".
Mr Parrikar said he had seen pictures in the media of locals suffering from blisters in Afghanistan, which suggested the possible use of chemical weapons. "At this moment, I don't have confirmation on this, but the photos were quite disturbing," Mr Parrikar said.
General Bipin Rawat said: "Although chemical weapons have been banned by the United Nations, it could be used by an adversary."
Get the latest election news, live updates and election schedule for Lok Sabha Elections 2019 on ndtv.com/elections. Like us on Facebook or follow us on Twitter and Instagram for updates from each of the 543 parliamentary seats for the 2019 Indian general elections. Election results will be out on May 23.