New Delhi:
Highlights
School authorities allegedly gave question papers to teachers at 9:10 am
Sources say the accused clicked pictures and circulated them
Police sources say crime was committed for a few thousand rupees
A desire to help their friend for a few thousand rupees led Rishabh and Rohit--
the duo arrested in the CBSE paper leak case
--commit the crime, a police official said on Sunday.
According to police,
Rishabh, Rohit and Tauqeer
knew each other since the last five years. Tauqeer, the third accused in the case, had urged the other two to help him get the CBSE Class 12 economics paper for his student.
The official privy to the investigation said the crime was committed for a few thousand rupees.
The police said that the invigilators are provided question papers at 9.45 am on the examination day and are allowed to open those immediately. The exam starts at 10.30 am.
However,
the school (Mother Khajani Convent School) authorities
allegedly provided the question papers to teachers around 9.10 am which gave the two accused -- Rohit and Rishabh -- ample time to click the pictures and send to Tauqir, who circulated them to students, they said.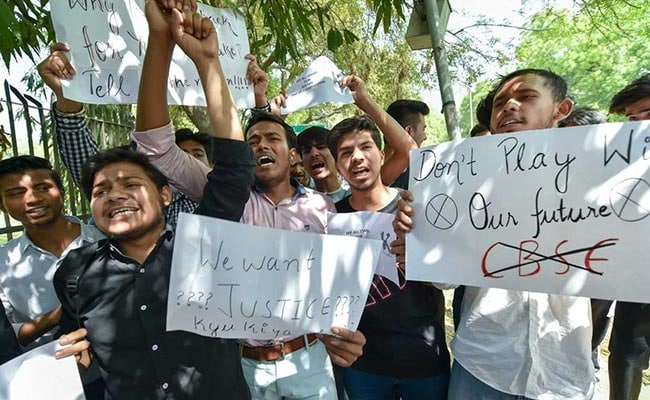 "We are also probing whether the trio was involved in leaking more papers this year or of the previous year's," he said.
Rishabh teaches physics at the Mother Khajani Convent School. He completed his B Tech from Punjab Technical University in 2013 and then did his BEd.
Rohit is a mathematics teacher in the same school. He had done his BSc from Bahadurgarh in Haryana, while Tauqir teaches economics at a private tuition centre in Delhi.
The police added that the trio apparently was hatching the conspiracy for two weeks.
The leak of Class 10 mathematics and Class 12 economics papers has created a furore across the country, with students, parents and other stakeholders up in arms over the incident.
Though the CBSE has announced the date for the reexamination of the Class 12 paper, it is yet to take a final call on the retest of the Class 10 paper.
Get Breaking news, live coverage, and Latest News from India and around the world on NDTV.com. Catch all the Live TV action on NDTV 24x7 and NDTV India. Like us on Facebook or follow us on Twitter and Instagram for latest news and live news updates.