Here's your 10 point cheatsheet to assembly election results 2017:
"Thank you. Long live democracy," tweeted Prime Minister Narendra Modi on Saturday evening in response to a tweet by Congress vice president Rahul Gandhi congratulating him and the BJP on today's wins.
PM Modi also tweeted, "Gratitude to the people of India for the continued faith, support and affection for the BJP. This is very humbling & overwhelming."
Amit Shah said the BJP will hold a reception for PM Modi at the party's Delhi office on Sunday evening after which its top decision makers, the parliamentary board, will meet to decide on chief ministers. "We will form government in four states - UP, Uttarakhand, Goa and Manipur," Mr Shah said.
The mega UP election, held in seven rounds, is seen as a bellwether for the 2019 national election. The win is also seen as an endorsement of the PM's stewardship of the economy after his decision last November to scrap high value notes, aimed at eliminating corruption and black money.
UP Chief Minister Akhilesh Yadav of the Samajwadi Party was relaxed as he accepted defeat and said he hoped "the next government does better." He said his partnership with the Congress would continue.
Mr Yadav said the allegation of Bahujan Samaj Party chief Mayawati that Electronic Voting Machines or EVMs were rigged in UP should be investigated. Ms Mayawati is "shocked" that her party has won only 19 seats.
As Congress vice-president Rahul Gandhi congratulated PM Modi, he also said, "Our fight continues and will not end till we win the hearts & minds of people."
The Congress's big win in Punjab - it has won 77 of 117 seats - is the best news it has had in months, having done disastrously in other recent elections.
But questions are again being raised about Rahul Gandhi's leadership after the Congress' poor showing in UP, where he focused his attention with an intense campaign. In his parliamentary constituency Amethi, the BJP has won four out of 5 assembly seats.
Delhi Chief Minister Arvind Kejriwal's plan to win two more states has fallen flat, with his AAP winning zero seats in Goa and came a poor second in Punjab, winning 22 seats, only four more than the Akali Dal-BJP alliance at 18.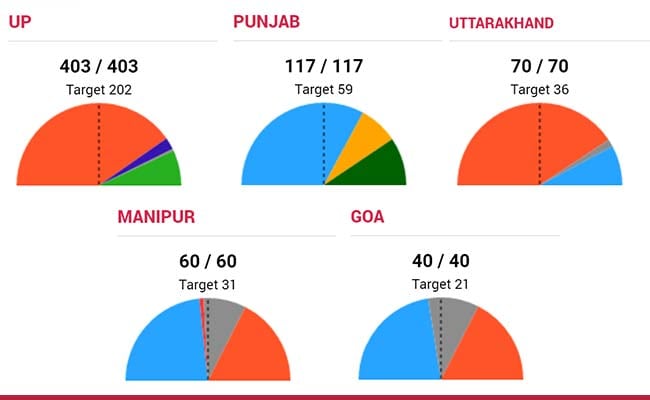 Get Breaking news, live coverage, and Latest News from India and around the world on NDTV.com. Catch all the Live TV action on NDTV 24x7 and NDTV India. Like us on Facebook or follow us on Twitter and Instagram for latest news and live news updates.