Highlights
BSP chief blames BJP's landslide victory in U.P on largescale rigging
She threatened to approach poll panel, go to court if matter not resolved
This was her farewell speech, she's inconsequential: BJP's Babul Supriyo
As the BJP won a landslide victory in Uttar Pradesh, former Chief Minister Mayawati blamed it on largescale rigging and threatened to complain to the Election Commission and go to court and hold an agitation till the matter was remedied. The BJP hit back, with its lawmaker Babul Supriyo alleging that the former Chief Minister has become "inconsequential".
""I think this was Bua-ji's (aunt's) farewell speech on NDTV... These are bizzare allegations. It is time for her to take a chill pill and swallow that bitter pill if I can rhyme that together," Mr Supriyo said. Union Minister Smriti Irani, too, took a swipe at Ms Mayawati, saying it was a case of "sour grapes".

Ms Mayawati's Bahujan Samaj Party, which was hoping to unseat the ruling Samajwadi Party of Akhilesh Yadav, has managed to win only 19 seats - way behind the 325 seats the BJP and allies claimed. The alliance with Congress that Akhilesh Yadav had entered into, is also fell by the wayside, being ahead in only 56 of the state's 403 seats.

"Modi and Amit Shah, if they are really honest, they should get this election countermanded and revert to the system of ballot papers,"Ms Mayawati said. "This issue is so major now that to be silent about it is to strangle democracy."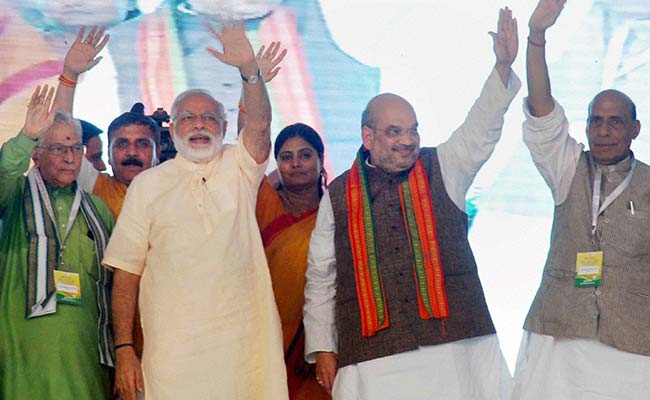 People don't believe in EVMs, said Ms Mayawati, who has a huge voter base among the state's Dalits. "Muslims want to know... they say 'We haven't voted for the BJP, so where is the question of non-BJP voters being transferred to them," said Mayawati, who had fielded a large number of Muslim candidates.


"The BJP has murdered democracy," she added. In Punjab -- where the BJP is trailing Congress - "they would also have done the same thing but they got scared". "If the Election Commission doesn't listen, I will go to court, do 'andolan' (agitation)," she added.
Accusing the BJP of rigging even the recently completed civic elections in Maharashtra, she said "Complaints of faulty EVMs had come through there as well". While the BJP had not won an outright victory in the Mumbai civic elections, under the aggressive leadership of Chief Minister Devendra Fadnavis, it had closed the gap with four-time winner Shiv Sena, coming to the position of a close second.