New Delhi:
Highlights
Congress boss Rahul Gandhi congratulates PM Modi on Twitter
'Long live democracy', tweets PM Modi in response to Rahul Gandhi's tweet
Congress suffered a big defeat in U.P under Rahul Gandhi's leadership
With another landmark debacle to account for, Congress boss Rahul Gandhi on Saturday said "Our fight continues and will not end till we win the hearts and minds of people." He also congratulated Prime Minister
Narendra Modi, who not just brought his party back to power in Uttar Pradesh
after 14 years, but did so with the biggest result the state has seen in decades.
"Thank you. Long live democracy," PM Modi tweeted in response to his rival's message.
Thank you. Long live democracy! https://t.co/hJoGsO5lGA

- Narendra Modi (@narendramodi) March 11, 2017
With strict adherence to its rinse-and-repeat scheme, the Congress rose to Rahul Gandhi's defense just as it has after every recent election. "Rahul Gandhi cannot step down," said senior leader Digvijaya Singh, submitting the standard party line - "the Nehru-Gandhi family is the biggest binding factor of the Congress."
Three years after the Modi Wave earned the BJP the country's biggest margin in three decades, the Prime Minister decisively proved he has lost none of his appeal.
The BJP, along with allies, won 325 seats in Uttar Pradesh
; the Congress won seven. Akhilesh Yadav, the incumbent Chief Minister, who allowed the Congress to ride pillion with him, won 47 seats, the partnership proving politically lethal.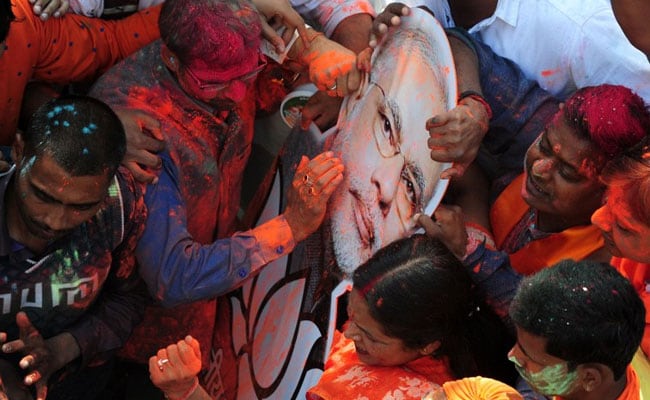 Rahul Gandhi's mother and
Congress chief Sonia Gandhi is abroad for medical treatment
, details of which the party has not disclosed; before leaving the country, she told senior colleagues that her son is in charge while she's away. Rahul Gandhi and sister Priyanka Gandhi Vadra, who was outed with this election as the main designer of the alliance with Akhilesh Yadav, met with Ghulam Nabi Azad this evening, who was in charge of the party's campaign in Uttar Pradesh, before holding a private conference.
Since Rahul Gandhi led the Congress campaign in 2014, the Grand Old Party's sizing has shrunk to toddler. In the general election, it was stuck with its worst-ever result: 44 seats. Then, one important state after another flipped over to the BJP. Today, it retained Punjab - an accomplishment that should be credited to
Captain Amarinder Singh, who turned 75 yesterday
and was confoundingly not declared the Chief Minister candidate till very late in a campaign that he fronted and devised with strategist Prashant Kishor.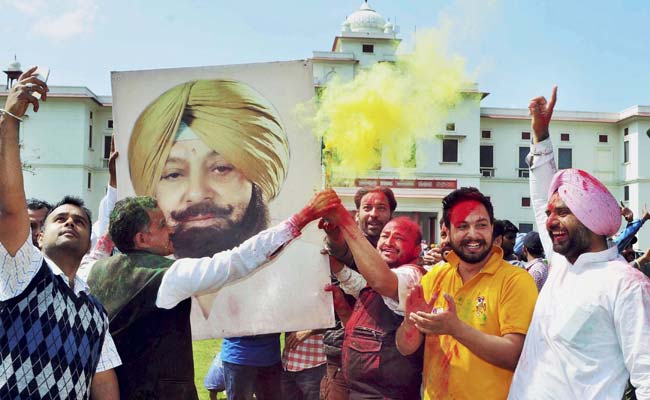 While the PM's claim to a second term in 2019 is now endorsed by the country's key battleground state, the Congress must not attempt to parse yesterday's result for a desperate silver lining, advised
Sandeep Dikshit, a party member
whose mother, Sheila Dikshit, was the reluctant presumptive Chief Minister till the alliance with Akhilesh Yadav ended her run - an outcome she appeared to welcome. Without taking names, Sandeep Dikshit said the Congress has to ensure "open introspection" to help its leaders better themselves. The Congress has never espoused the former, apparently operating on the assumption that the latter is impossible.
The
Congress is ahead by four seats in Goa
, though it will need the support of independents to form the government in the coastal state. It was also
leading in Manipur
, offering some consolation to a party whose weakness was brutally exposed with today's result - the absence of a leader with a mass connect and the unlikelihood of any accountability for that fundamental problem.
Get Breaking news, live coverage, and Latest News from India and around the world on NDTV.com. Catch all the Live TV action on NDTV 24x7 and NDTV India. Like us on Facebook or follow us on Twitter and Instagram for latest news and live news updates.