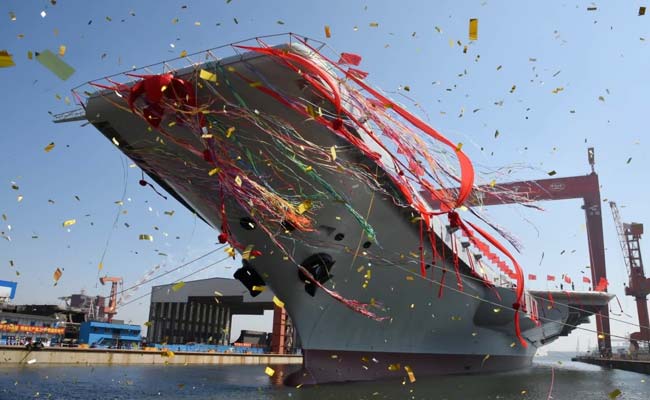 Highlights
China launches its first domestically designed and built aircraft carrier
Launch comes amid tensions over North Korea
India's first home-grown aircraft carrier is still under construction
As India struggles to finish construction of its first home-grown aircraft carrier, the Vikrant, China has launched its first domestically designed and built aircraft carrier. State media said the carrier is not expected to enter service until 2020. Its launch follows China's celebration on Sunday of the 68th birthday of the founding of the Chinese navy and it comes amid rising tensions over North Korea and worries about Beijing's assertiveness in the South China Sea.
Adorned with colourful ribbons, the Type 001A ship transferred from dry dock into the water at a launch ceremony" in the northeastern port city of Dalian. The ribbon-cutting was followed by the traditional breaking of a champagne bottle on the ship's bow.
Type 001A is China's new class of carrier. The country's first aircraft carrier, the Liaoning, is a second hand Soviet ship built more than 25 years ago and commissioned in 2012 after extensive refits.
The possession of a native aircraft carrier places China among the few military powers with such vessels, including the United States, Russia and the United Kingdom.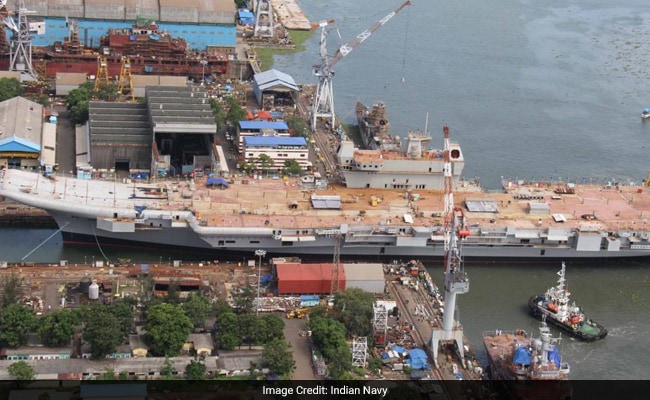 Construction of the 70,000 ton Chinese warship, which sailed out of its dry dock today, started in November 2013. In contrast, the keel of India's Vikrant (named after India's first aircraft carrier), was laid in February 2009, and though she was sailed out for the first time in in 2011, completion of the project may not take place before 2023 according to report from the national auditor last year.
That's primarily because key sensors and weapon systems including its surface to air missiles and aviation complex are yet to be ordered, let alone be installed and tested, a process that can take up to a year. Ironically, the full complement of 29 Russian MiG-29K fighter jets for the carrier, orders for which were placed in 2010 for $1.2 billion, have been received.
China's new warship, which is likely to be named the Shandong, is also considerably larger than India's Vikrant which has a displacement of 40,000 tonnes; that means it should be able to embark a larger number of helicopters and fighters.
Analysts said the ship represented a "status symbol" for Beijing in a contested region but posed little threat to advanced US carriers.
China's defence ministry has previously said the new carrier would displace 50,000 tonnes and use conventional rather than nuclear propulsion.
It is expected to carry China's indigenous J-15 aircraft, along with other planes.
Comparing the efforts of India and China, a
Bloomberg column said
, "After decommissioning the INS Viraat earlier this year, the Indian Navy is down to a single carrier, INS Vikramaditya. Worse, the Shandong has been built at China's own giant shipyard at Dalian; Vikramaditya is merely a repurposed 1980s-era Russian carrier formerly known as the Admiral Gorshkov."
(With inputs from agencies)