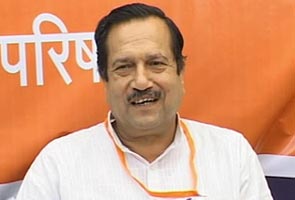 New Delhi:
RSS leader Indresh Kumar has not been seen since he was named by the Rajasthan Anti-Terror Squad (ATS) in the chargesheet in the Ajmer blasts case. But today he showed up at the RSS conclave in Jalgaon to defend himself.
He denied any involvement in the incident in which three persons were killed and 15 others injured.
"This is a political conspiracy and all these charges are baseless and an attempt to malign me and defame my organisation," Indresh told reporters.
"We believe in the judicial process and Indian Constitution. Everything will be clear," he said.
To a query on how his telephone number figured in one of the diaries of the accused he said, "anybody's number can be in anyone's diary. It does not mean or prove anything."
During the three-day meeting of the Sangh conclave, the RSS discussed ways to counter the arrest of its men in the blasts. And now the Sangh Parivar has thrown its weight behind Indresh.
Faced with charges against its men for blasts in Ajmer and Malegaon, the Sangh has decided to agitate.
On November 10, the RSS will hold a nationwide protest against what it calls a witch hunt against it, by the Congress. And for the first time since the Emergency, the RSS chief will be heading the protests.
"The Home Minister's made an inappropriate comment using the phrase 'Hindu terror'. We are protesting against that," said RSS leader Suresh Joshi.
But the protests won't end the jitters in the Sangh Parivar, as the Rajasthan government has openly hinted that Indresh's interrogation is imminent. And that the ATS probe may reach more RSS men.