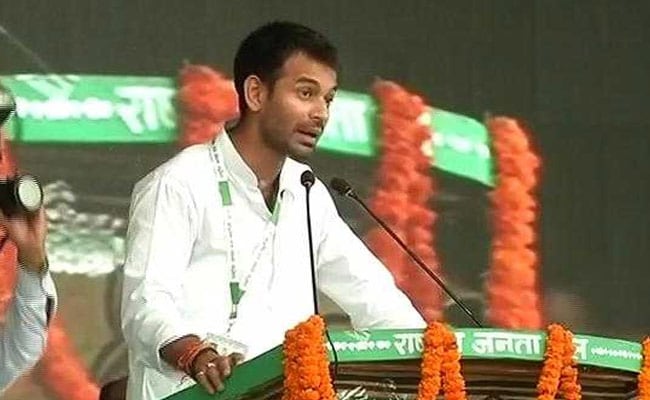 Patna:
While Bihar politician Lalu Yadav and his family camp in Delhi for their interrogation in corruption cases, trouble is brewing in Patna for his other son, Tej Pratap Yadav.
The Patna High Court has ordered the Bihar government to file a report within six weeks in what is called the
soil scam
- the genesis of the mega corruption allegations against
Lalu Yadav and his son Tejashwi
, which led to Chief Minister Nitish Kumar ending his grand alliance with the Yadavs and the Congress and re-embracing former ally BJP.
Tej Pratap Yadav was Forest Minister in the Nitish Kumar government when the alleged scam took place. The BJP alleges that Lalu Yadav's older son had abused his powers to sell to the Patna zoo a large amount of soil allegedly dug out for a mall being built on a plot of premium land owned by the Yadav family on the outskirts of Patna.
The scrutiny soon shifted to the land, which the CBI believes was handed illegally to the Yadavs in exchange for a hotel contract to a private company. The contract was facilitated by Lalu Yadav as Union Railways Minister in 2006, say investigators.
Deputy Chief Minister Sushil Modi of the BJP, who had raised the allegations against Tej Pratap in April, is now in charge of the forest department.
Forest officials say even though an inquiry when the Nitish Kumar-Lalu Yadav coalition was alive dismissed any wrongdoing, Sushil Modi wants some "discrepancies" investigated.
An inquiry has been ordered into whether the pathway inside the Patna zoo, for which the soil was bought, was needed.
The soil was bought through quotations instead of tenders. "There were five different quotations on the same day, with a margin of Rs 100. This means it was rigged," said an official.
Tej Pratap, when contacted by NDTV for his reaction to the High Court order, hung up the phone.