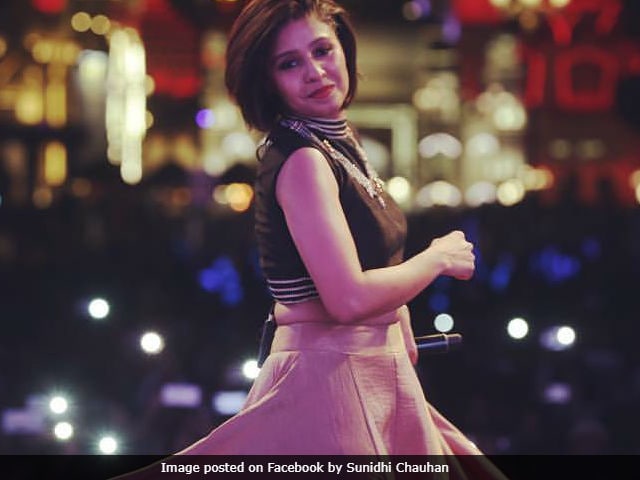 Highlights
'Every girl in the world goes through this,' says Sunidhi Chauhan
Sunidhi Chauhan says singing is her 'first and last love'
The Kamli singer is super excited to welcome her first child
New Delhi:
Sunidhi Chauhan is pregnant with her first child and the 34-year-old singer says she is 'super excited' about the new addition to their family. Speaking to news agency IANS, Sunidhi said that she hopes to balance both the professional and personal aspects of her life after the birth of her baby. She told IANS: "Every girl in the world goes through this and I am one of them. I have to balance both. There is going to be a new life in my life and it will be equally or more important than anything else. I do know that
my first and last love is my singing
, the gift God gave to me. So, I will take care of both and just make sure I am at peace with myself."
Talking about her pregnancy experience, Sunidhi told IANS: "To be able to give birth to a new life is definitely the most amazing phenomenon. Yes, I get tired too quickly nowadays, but I am loving the conversations that I am having with my friends because this is all I talk about all the time, trying to know more about motherhood and babies, preparing myself, conditioning myself for the day when I will see my (my baby) in my hands and taking care of it."
"I
am thankful to all the amazing wishes coming my way
for me and my baby. I am super excited. This is something that I am experiencing for the first time. I am thankful to God for that because, now that I am in this state, I have realised that it is the most beautiful thing, the most magical thing on earth," she added.
Sunidhi Chauhan married music composer Hitesh Sonik in 2012 and this will be the couple's first child together. "I have never planned many things in my life. I have always gone with my instinct and flow... There will be some decisions that I will be taking but have no plans. I will go with the flow because this is the most natural thing that could happen to a woman."
Sunidhi Chauhan's resume is filled with hit tracks such as
Kamli
from
Dhoom: 3
,
Desi Girl
from
Dostana
,
Navrai Majhi
from
English Vinglish
and
Saaki
from
Musafir
. Sunidhi has also featured on several singing realty TV shows as judge.
(With inputs from IANS)