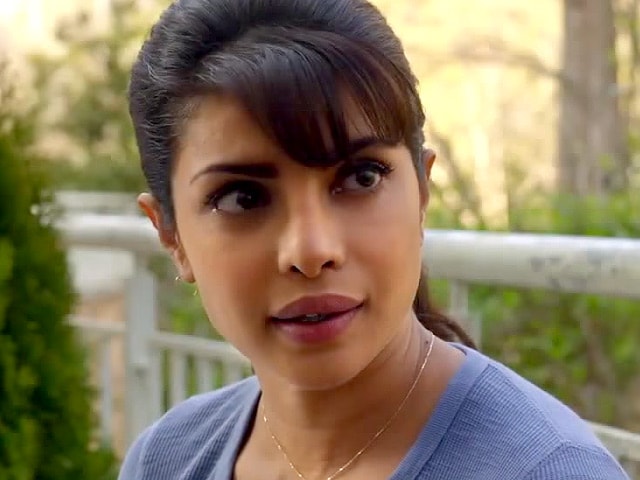 Mumbai:
Call Priyanka Chopra the flavour of the season and she unabashedly corrects you saying, 'I am the flavour of every season'. Life was never a bed of roses for PeeCee, especially during her academic days in the US where she often found herself at the receiving end of racist barbs. Today, the same girl is having the last laugh courtesy the rousing response to the trailer of her debut American TV series,
Quantico
. In an exclusive interview with hitlist, the actress talks about her experience in the West, working with the Khans and marriage. Excerpts.
Q. How do you feel about the response Quantico's trailer has received?
A. Overwhelmed, as I didn't expect it. I knew people were not expecting it either. In Western films and television, Indians have always been relegated to playing characters that are not headlining. We are stereotyped. That's why I didn't talk about
Quantico
much and waited for the trailer release to see people's response. I am just keeping my fingers crossed in a big way and hope that the show does well for many more reasons than one.
Q. What are the other reasons?
A. I am not saying I am some messiah today, but when I was studying in an American school, I faced a lot of racism. I was told to go back on the same boat that I came on... (pauses) Browny and all of that... It wasn't everybody, but a group of people in high school. It became too much for me which is why I quit school midway and came back to India. So when I started working in the West, I was aware of all that had happened and I was very clear that I don't want to do something that will put me in that box again. I am an actor and want to be taken seriously for my job. I think Indian talent deserves respect and I am grateful for the opportunity that I got. So that is one reason very personal in nature.
Q. You have made a mark in the West where many others have failed. What have you done differently?
A. The only different thing I did is stand my ground and say no to all those offers which would have put me in that box. I didn't want to be the exotic Indian princess who rides on elephants. I used to be asked those (stereotypical) questions all the time. Like, 'In India, do you go to school on elephants?' It is ridiculous sometimes to know how the perception is. When
Quantico
happened, the only thing I told the agency was that you have to find me a path, which is ethnically ambiguous as an actor. It should have nothing to do with my race, country, religion and to their credit, they found me one. I am playing a half-American, half-Indian FBI agent. It's a great female-driven part.
Q. Your steamy sex scene in the trailer has created quite a stir. Were there any apprehensions?
A. It is not a sexual role. There is one shot of my knee, one of the car and then another of Jake (McLaughlin). That's all. We had to tell that as a story and found an aesthetic way of saying it without me having to do anything. We had to show that my character has no inhibitions as a person and men don't matter to her. How guys usually treat girls is how she treats guys. So that was important to convey. As far as personal inhibitions go, I didn't have to do anything. Indians films today show a lot more than what I have done in it (smiles).
Q. Moving on to your upcoming film 'Dil Dhadakne Do', what is the most interesting thing about your character?
A. I love Ayesha because she is gentle, sensitive and brilliant. She is an achiever, but only seeks approval from her father. I haven't played a girly character in a long time. We dress up similarly too. We share a lot of qualities.
Q. So it's very close to how you are in real life?
A. I am not playing what I am in real life. I have spent all my life being different people so I don't know the real me. I will find that out when I stop acting.
Q. Will a movie with the Khans happen again?
A. Ask the Khans. I have never thought that I need to work with a particular person. I am blessed to have had an amazing array of films to pick from. It is the prerogative of the directors and producers to cast an actor and not the other way round.
Q. Buzz is you will be seen in Don 3 too...
A. I don't know if Farhan Akhtar is making
Don 3
as of now.
Q. You pretty much have everything that a woman aspires to have, but marriage is unticked in your bucket list. When will that happen?
A. Nobody knows what a woman wants. If you do, you will make a lot of money. I am blessed with a lot of work. Marriages are made in heaven and I greatly believe in it. I know there is someone made for me. When the time is right, the universe will conspire and it will happen. Till then you live life and revel in it.