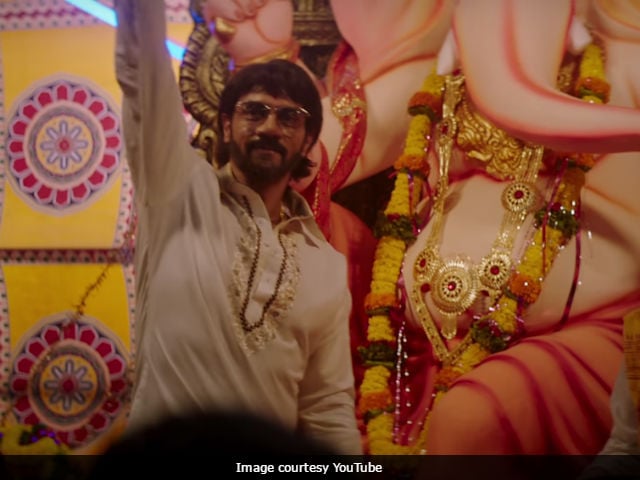 Highlights
The song has been sung by Wajid
Prashant Ingole & Sajid have written the lyrics of the song
The music of the song has been composed by Sajid-Wajid
New Delhi:
On the occasion of Independence Day, the makers of
Daddy
, starring Arjun Rampal, treated everyone by unveiling a new song from the movie. The song, titled
Aala Re Aala Ganesha
, shows Ganesh
Chaturthi
celebrations taking place on the streets of Mumbai. Amidst the ten-day celebration, you also get a glimpse of the crime happening in the city. The two-and-a-half minute song has been sung by Wajid. Prashant Ingole & Sajid have written the lyrics of the song while the music has been composed by Sajid-Wajid.
Daddy
has been directed by Ashim Ahluwalia. In the film, Arjun Rampal will be seen portraying the role of gangster-turned-politician Arun Gawli.
See the new song of
Daddy
, titled
Aala Re Aala Ganesha
here:
Daddy
, which has been co-produced by Arjun Rampal and Rutvij Patel, also stars Farhan Akhtar and Aishwarya Rajesh in pivotal roles. This will be the
Aankhen
actor's first biopic.
The
trailer of Daddy
was unveiled by the makers of the film on June 13. Watch it here:
In a recent interview with news agency IANS, Arjun Rampal said that he wouldn't have acted in the film if he had failed the look-test
.
"Getting the look right was very important for me. I wouldn't have done Daddy as an actor if I failed the look-test. So after the writing was done, the scary part came -- the look test. I told Ashim (Ahluwalia) that if my look-test is miserable, I will still produce the film, Ashim will still direct it, and we will get another actor who would look like Arun Gawli," IANS quoted Arjun Rampal as saying.
"I am playing a real life character, so the first thing for me was to look like him. I did not go to the gym for two years and stopped lifting weight to lose 20 kg, as I had muscle. For the character, I had to look thin. Such physical transformation along with the production design through which Ashim created the world of Arun Gawli. It helped me as a performer," he added.
Daddy was supposed to release on July 21
. However, the release date of the film was postponed and it will now hit the theatres on September 8.
(With IANS inputs)