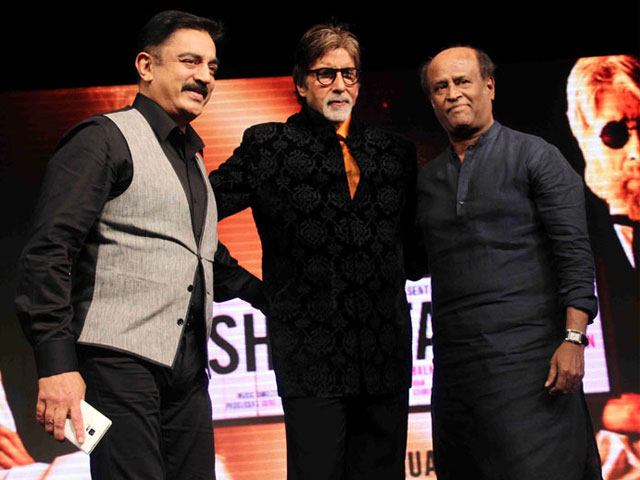 New Delhi:
Moments like these are hard to come by in real life, plentiful though they be on reel. Superstars Rajinikanth, Amitabh Bachchan and Kamal Haasan attended a double celebration in Mumbai on January 20 at which the music of Shamitabh was launched and its composer Ilaiyaraaja was felicitated for his 1,000th film score (which was not the one for Shamitabh). Also present were actress Sridevi, who has co-starred often with all three actors, Mr Bachchan's Shamitabh co-stars and his family.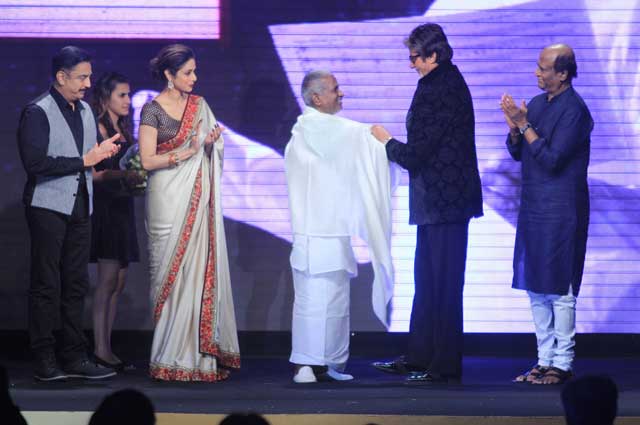 Shamitabh is a family affair of sorts, as was its music launch. Mr Bachchan stars in the R Balki directed film with Rajinikanth's son-in-law Dhanush and Kamal Haasan's daughter Akshara.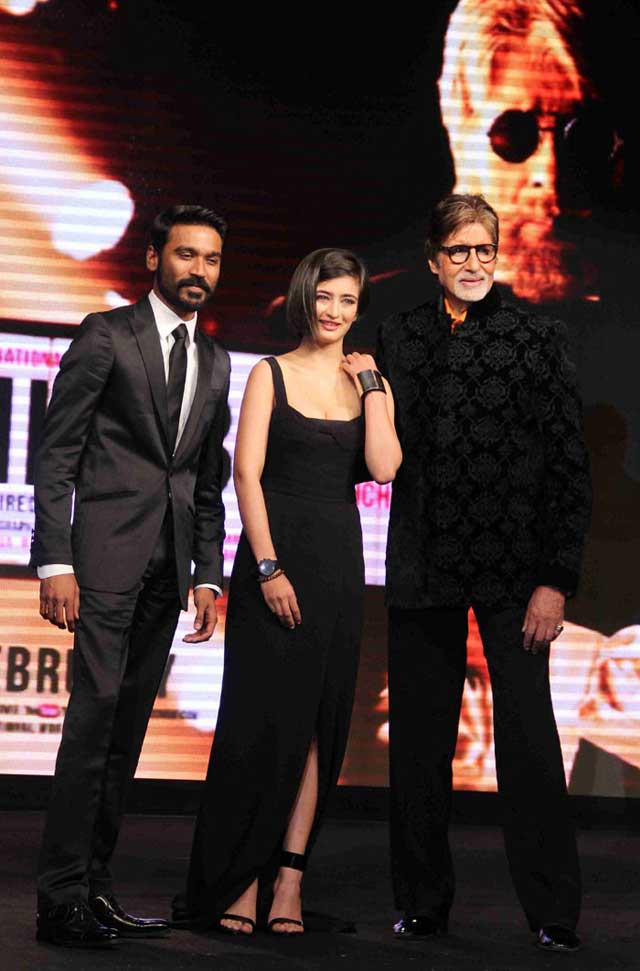 Almost everyone in the room had been in films together. Rajinikanth and Kamal Haasan have been frequent co-stars right from Rajini Sir's first film, 1975's Apoorva Ragangal. Rajinikanth and Mr Bachchan have appeared in films like Hum and Andha Kanoon, Kamal Haasan and Mr Bachchan in films like Geraftaar. Sridevi has often been cast opposite each of the three superstars. She appeared with both Rajinikanth and Kamal Haasan in her debut film Moondru Mudichu in 1976, and has co-starred with Amitabh Bachchan in Khuda Gawah.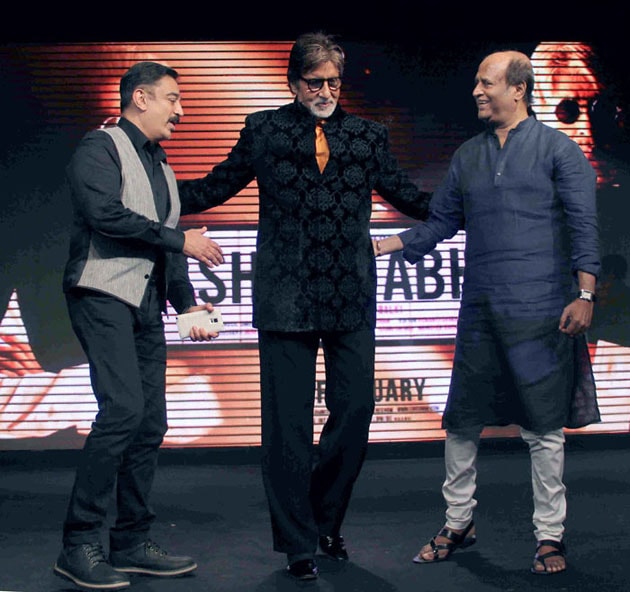 Ilaiyaraaja, of course, has scored several films featuring the actors. They include 1977's 16 Vayathinile which starred Rajinikanth, Kamal Haasan and Sridevi, and 2009's Paa which featured Amitabh Bachchan and was R Balki's second film.

Mr Bachchan spoke about how nervous he was singing for Ilaiyaraaja in Paa, saying, "I have never dared to sing in front of him because I found it very embarrassing. Every time, I used to sit in a studio separately to record. I remember one occasion during Paa, where I had to sing a song with Raja saab in front of me. I can't say how frightening it was."

Kamal Haasan said he owed Raja saab, as the composer is called, many thanks. ""Raja has become a part of my life. Today, I got the opportunity of hugging him. He is a bit shy. I knew that he would do his 1000th film and I am glad that his 786th film was with me," he said.

There was high praise from Dhanush as well. "Thank you for whatever you have given to this industry. I am your devoted fan. Your music is a big inspiration. I am not a trained actor, but accidentally became an actor. It is because of your music that I have made it so far. My every inspiration comes form your music," he said.

Lyricist Gulzar and Mr Bachchan's family - wife Jaya, son Abhishek and daughter-in-law Aishwarya - were also at the event. "It's an absolute honour to be present here. We have enjoyed your music. Thanks to the team of Shamitabh. Thank you all the legendary icons. I have the pleasure of calling one of them Paa," Aishwarya Rai Bachchan said.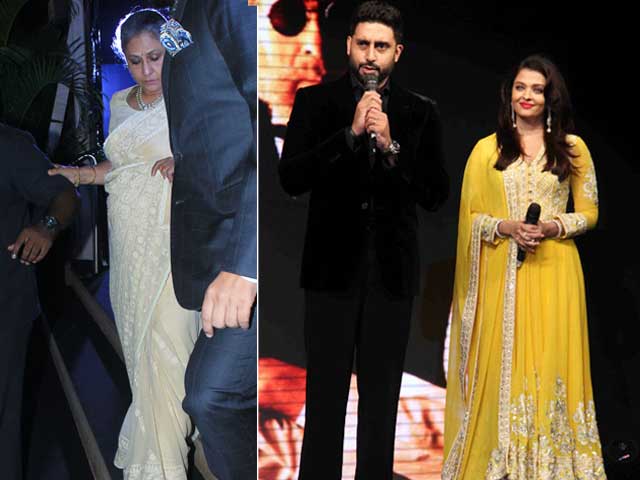 Big B, Rajinikanth and Kamal Haasan's second generation also got along famously with each other. While Dhanush (whose wife Aishwaryaa was also present) chatted amicably with Abhishek and Ash and gallantly greeted Sridevi - Kamal Haasan's elder daughter Shruti exchanged pleasantries with Sridevi and Boney Kapoor.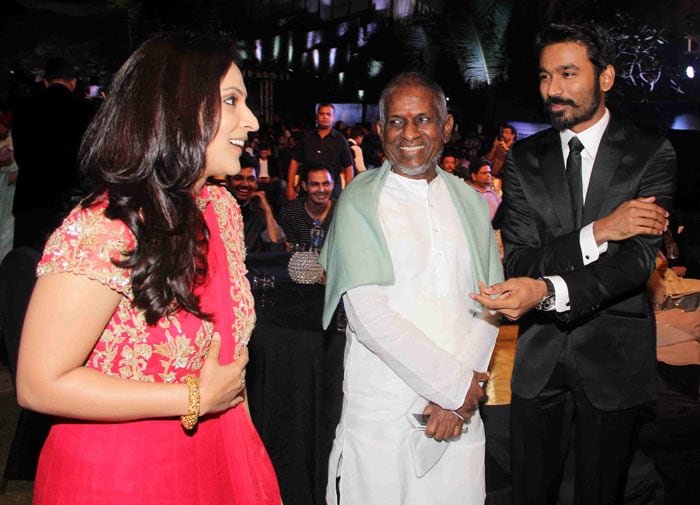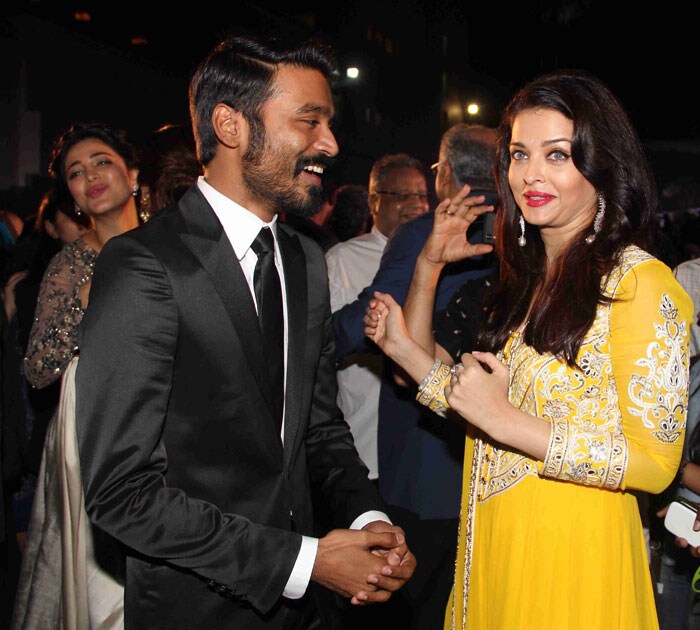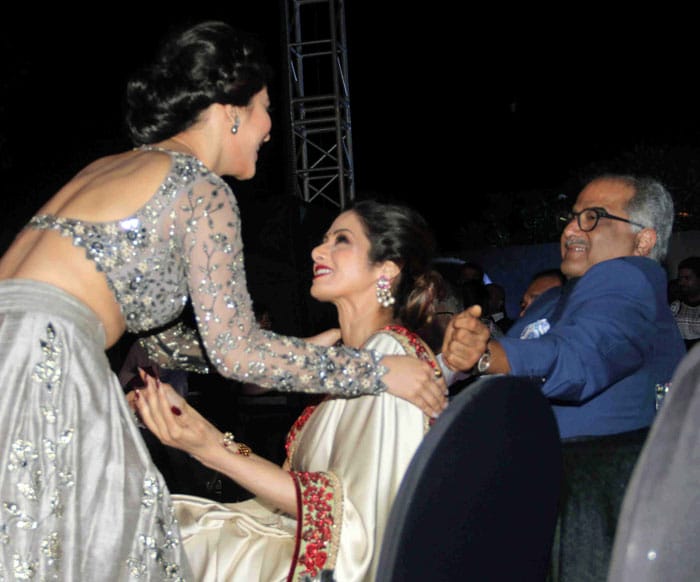 Debutante Akshara Haasan had also brought her cheer squad from home. In addition to father Kamal Haasan were Akshara's elder sister Shruti and mother Sarika.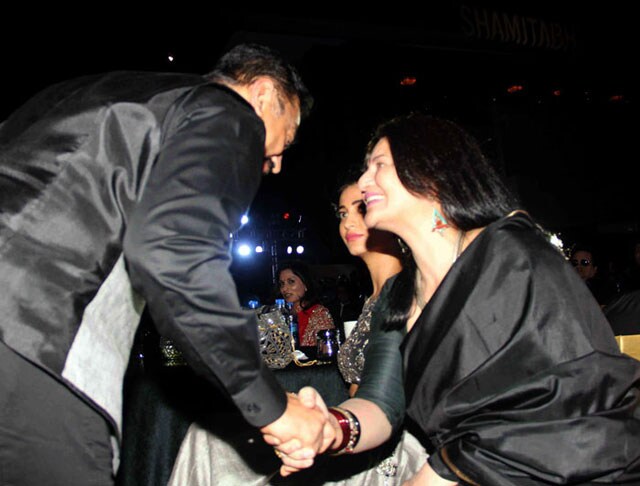 Also present were actress Tabu, who starred opposite Big B in Balki's first film Cheeni Kum, Aamir Khan's former wife Reena Dutta and their daughter Ira, singer Shreya Ghoshal, Shamitabh's producer Sunil Lulla, his wife Krishika, the film's lyricist Swanand Kirkire, its cinematographer PC Sreeram and choreographers Bosco-Caesar.

Celebrated writer-lyricist Prasoon Joshi, actress-singer Ira Arun, Colonial Cousin Leslie Lewis, ghazal singer Pankaj Udhas, music director Bappi Lahiri and theatre personality Dolly Thakore were also a part of the motley group of celebrity guests.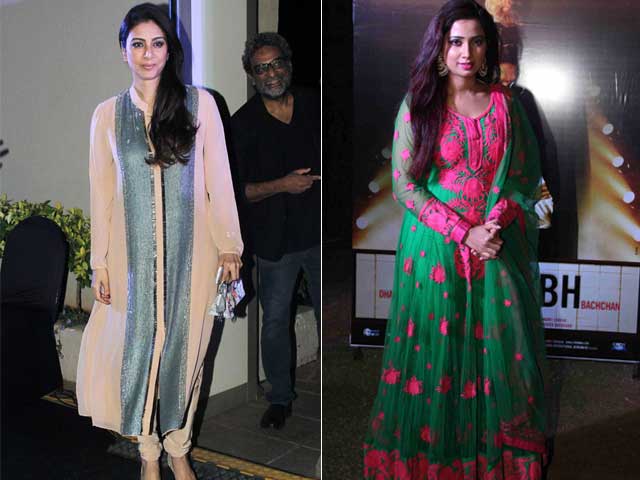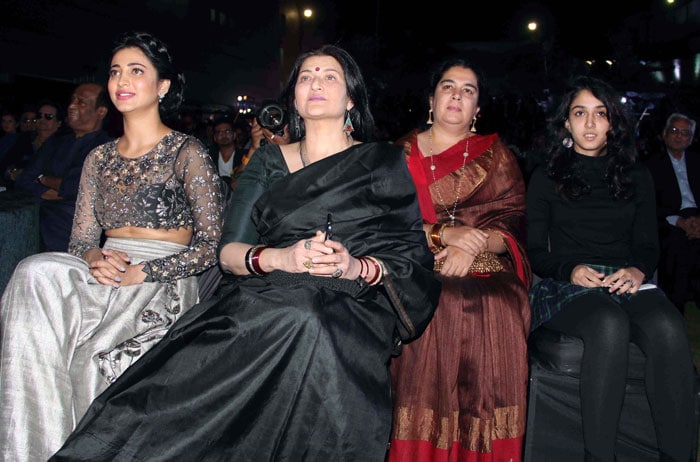 Shamitabh stars Dhanush as a speech-challenged actor who rises to stardom with the help of his aide, played by Amitabh Bachchan. Akshara Haasan, making her debut, plays a driector. The film is out on February 6.
With IANS inputs