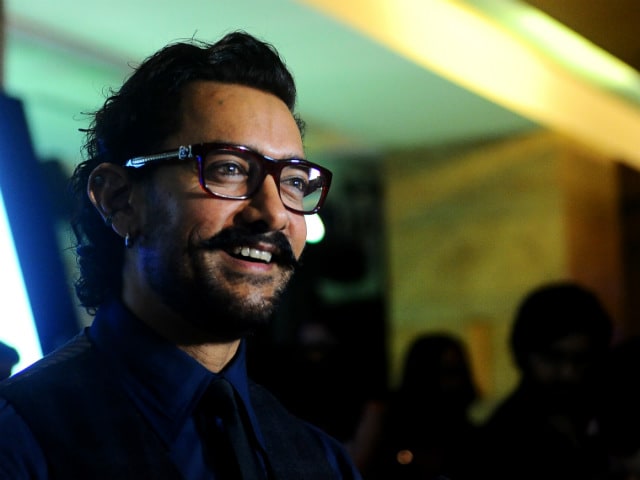 Highlights
"I feel it is a much bigger film," said Aamir
"I don't know what the box office will be," Aamir said
"But it's a bigger film than Dangal," he added
Singapore:
Superstar Aamir Khan says his next movie, about a small town teenage girl who uses the Internet to become a singing sensation, will be much bigger than his last film
Dangal
, which was India's highest grossing ever. Aamir, 52,
plays a music producer in the film Secret Superstar
and says he is second lead to teenager Zaira Wasim, who plays a school student who defies her conservative Muslim family to pursue her dream of a singing career. Aamir's last film
Dangal
was based on the true story of a former wrestler who trains two of his daughters to become champions in the sport. It was the highest grossing movie for Bollywood and
was powered by huge collections in China
.
"While both are about the empowerment of the girl child, I feel it (
Secret Superstar
) is a much bigger film," Aamir said in an interview in Singapore ahead of the movie's release later this month. He and his
wife Kiran Rao have produced the film
.
"While
Dangal
was about the dream of a father which a daughter fulfils, this is about the hopes and aspirations of a 14-year-old girl from a small town in India. I don't know what the box office will be but
it's a bigger film than Dangal
in what it's trying to say," he said.
Three of Aamir's films are in Bollywood's top four all-time hits. Besides
Dangal
, these include
PK
, in which he played an alien dealing with religious divisions in India, and
3 Idiots
, which is about the frailties in India's education system.
All three have also done well in China, and Aamir said he was: "very happy with the type of relationship that's building between me and my audience in this part of the world with each film".
He also produced and acted in a popular television documentary series on social ills, titled
Satyameva Jayate
.
That series led him to set up a non-profit organisation to work on a project to ease the shortage of water in Maharashtra, he said.
Despite the social messages in his movies, Aamir said he has no desire to become a politician, as some other Bollywood stars have.
"The desire in me to contribute back to society is something I can do very well in the field that I am in," he said. "I don't have to join politics. That's an area I don't ever want to go into," he added.
Aamir was subjected to massive backlash some two years ago after he said that his wife suggested that they shift countries because of growing 'intolerance.'
"For me, when I'm making a film, my primary responsibility is to give my audience a good time. Then if it's giving a message which is important and creative, if it's changing the way we look at things, great," he said.
"If it's giving a message which is highly negative, then I would not be a part of it," he added.
(Reporting by Anshuman Daga and Raju Gopalakrishnan; Editing by Alex Richardson)
© Thomson Reuters 2017