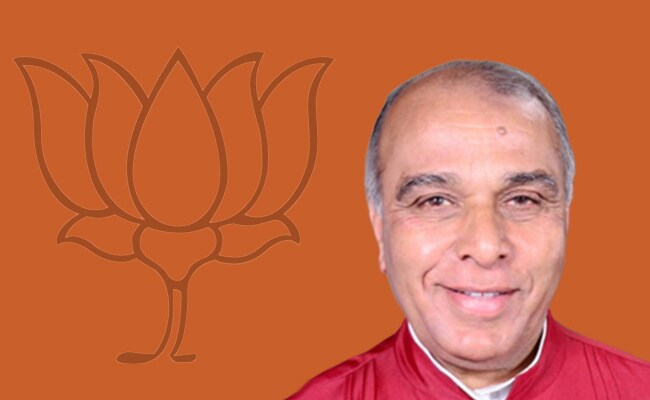 Jagdambika Pal

BJP
Age
68 Years
Gender
Male
Net Worth

₹

10.3 crore
Liabilities

₹

28.4 lakh
Income

₹

56.3 lakh
Education
Post Graduate
Profession
Post Graduate
Criminal Cases
0
Sitting MLA
-
*

Data source: ADR
Other details

Place of Birth
Vill. Rameshwerpuri, Distt. Basti (Uttar Pradesh)
Literary, Artistic & Scientific Accomplishments
Poetry, holding `Kavi Sammelan & Mushaira`
Social And Cultural Activities
Office bearer of All India Bhojpur Mahotsav, related to many cultural activities; Chairman, Surya Group of Institutions; College of Engineering, Science and Technology, Gaura, Mohanlalganj, Lucknow; Surya School of Planning, Engineering and Management, Hariharpur, Lucknow; Surya College for Pharmacy, Gaura, Mohanlalganj, Lucknow; Surya College of Business Management, Gaura, Mohanlalganj,Lucknow; and Pal Seva Samiti
Favourite Pastime and Recreation
Reading books, listening music, social work, playing games and travelling
Sports and Clubs
Hockey, Football, hold Cricket Tournament, represented All India University in Hockey and Football; Played Hockey and Football at the All India University level Matches
Countries Visited
Australia, China, Cuba, France, Germany, Malaysia, New Zealand, Northern Ireland, Sri Lanka, U.K. and U.S.A.
Positions Held
| | |
| --- | --- |
| 1982-93 | Member, Uttar Pradesh Legislative Council (Two Terms) |
| 1988-1999 | Minister of State, Govt. of Uttar Pradesh |
| 1993-2007 | Member, Uttar Pradesh Legislative Assembly ( three terms) |
| 2002 | Cabinet Minister, Govt. of Uttar Pradesh |
| 2009 | Elected to 15th Lok Sabha |
| 31 Aug. 2009 | Member, Standing Committee on Energy |
| 23 Sep. 2009 | Member, Committee on Petitions |
| 7 Oct. 2009 | Member, Committee on Members of Parliament Local Area Development Scheme (MPLADs) |
| Aug. 2010 | Member, Standing Committee on Chemicals and Fertilizers |
| 2011-2014 | Chairman, Committee on Public Undertakings |
| 15 March 2014 | Resigned from 15th Lok Sabha |
| May, 2014 | Re-elected to 16th Lok Sabha (2nd term) |
| 1 Sep. 2014 onwards | Member, Committee on Privileges. |
| 1 Sep. 2014 - 31 Aug. 2018 | Member, Standing Committee on Energy |
| 3 Dec. 2014 onwards | Member, Business Advisory Committee |
| 1 May 2015 onwards | Member, Joint Committee on Security in Parliament House Complex |
| 11 May 2016 onwards | Member, Joint Committee on the Enforcement of Security Interest and Recovery of Debts Laws and Miscellaneous Provision (Amendment) Bill, 2016 |
| 1 Sept. 2018 onwards | Member, Standing Committee on Home Affairs |
*

Data source: LS