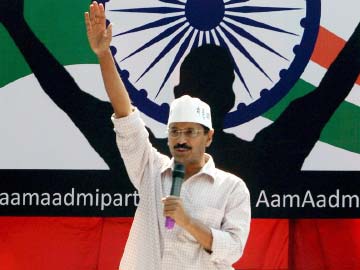 New Delhi:
Arvind Kejriwal, who is facing a government probe into the source of foreign funds received by his Aam Aadmi Party (AAP), says donations to his party have multiplied since the controversy erupted.
"We r grateful to BJP and Congress for raising questions on our funds. Donations have increased 6 times. 1100 people have donated since morning," tweeted Mr Kejriwal, who insists that his funding is transparent and all accounted for.
An AAP official confirmed that donations hit Rs 13 lakh today, compared to the daily average of Rs 8 lakh.
The political outfit, which will debut in the December 4 Delhi election, has reportedly collected some Rs.19 crore as donation from 63,000 people, ranging from rickshaw pullers, to traders, industrialists and overseas Indians.
The biggest donation of Rs 50 lakh has come from a Non Resident Indian (NRI) from Hong Kong.
The government is investigating these funds and has sent a questionnaire to Mr Kejriwal's party. "AAP has not responded yet to the questionnaire," said Home Minister Sushil Kumar Shinde today.
The home minister said he had ordered the investigation after the Delhi High Court last month asked the Centre to look into AAP's accounts and submit a report by December 10.
The AAP alleges that it is being targeted as opinion polls have predicted better prospects for the first-timers than earlier believed.
"If we are found guilty, we are ready to face double punishment. Receiving money from NRIs is not a crime and everything is displayed on the website; what is the problem with that?" Mr Kejriwal challenged this morning.
The probe against Mr Kejriwal has led to calls for all political parties to come clean on their finances. The AAP chief has demanded that the home ministry investigate how Congress got funds worth Rs. 2000 crore and the source of BJP's funding.
"In our country, it is an offence to receive money from any foreign source. AAP received money from those who hold Indian passports. Why wasn't any investigation held against existing political parties?" said former Karnataka Lokayukta Santosh Hegde, who worked with Mr Kejriwal as part of anti-corruption crusader Anna Hazare's team or 'team Anna" before the group split over political differences.
Get Breaking news, live coverage, and Latest News from India and around the world on NDTV.com. Catch all the Live TV action on NDTV 24x7 and NDTV India. Like us on Facebook or follow us on Twitter and Instagram for latest news and live news updates.