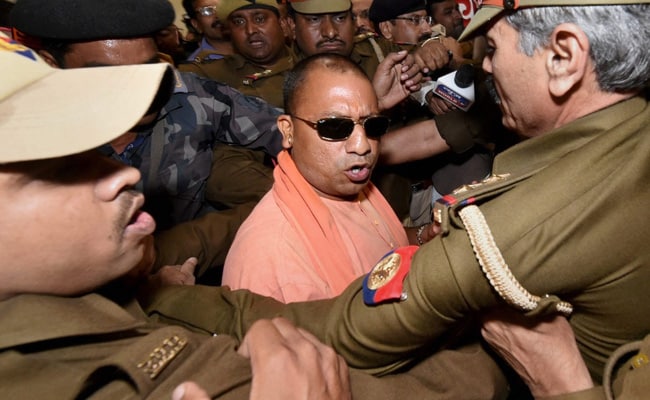 New Delhi:
Yogi Adityanath's stock is high as a star campaigner after the BJP's massive win in the Uttar Pradesh assembly elections. The UP Chief Minister, already pencilled in to campaign for the party in the crucial Gujarat assembly elections later this year, will also be seen in Delhi, where he headlines a power-packed star cast of campaigners for the municipal elections month.
The BJP, having dominated the Municipal Corporation of Delhi or MCD for years, is taking no chances; it has been challenged this time by Arvind Kejriwal's Aam Aadmi Party, which has focused all its attention on winning the civic election after faring poorly in assembly elections in Punjab and Goa.
Apart from Yogi Adityanath, who took oath last week as UP chief minister, four other BJP chief ministers and 14 central ministers feature in the BJP's list of star campaigners for the Delhi civic poll. The party's core team for the election has four union ministers - Nirmala Sitharaman, Jitendra Singh, Sanjeev Balyan and Vijay Goel.
To stave off any anti-incumbency sentiment, the BJP has said it will field new faces for all the 272 seats in the civic bodies - North, South and East Delhi Municipal Corporations, together the MCD. No sitting councillors or their family members will be fielded, the party has decided. On Monday, party chief Amit Shah held two separate meetings with union ministers, members of Parliament and the party's Delhi leaders to discuss strategy.
The Aam Aadmi Party, having failed to spread its influence it other states, is now attempting to extend its success in the Delhi assembly elections, two years ago, to the ward-level in the capital. The BJP, trounced in that election, will mark AAP candidate for candidate in the MCD polls, and Amit Shah has ordered that only residents of a certain ward must be fielded there.
The party heads into the Delhi local elections with a string of successes in municipal polls behind it, most recently in Maharashtra and Odisha.
Polling for the 272 wards of the MCD will be held on April 23.