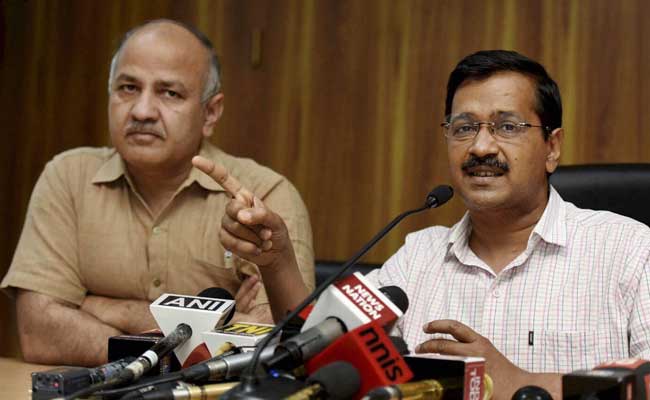 New Delhi:
Delhi is going through a water crisis and Arvind Kejriwal's government has appealed to the Prime Minister's Office for help, requesting it to "go beyond politics". But along with it, there was also a hint tucked into Mr Kejriwal's twitter page: Water supply in VIP areas may be cut down unless the situation is addressed soon. Within hours, there was promise of relief from Haryana, which said water supply in Yamuna will be back to normal by tomorrow.
The water crisis in Delhi has mainly affected the city's north and central parts -- including the VIP Lutyens' zone, which houses the Prime Minister's Office, the Rashtrapati Bhavan and residences of several Union ministers, judges, army officers and bureaucrats.
Delhi has blamed Haryana for the shortage - the sparring between the two states happen every summer. Deputy Chief Minister Manish Sisodia said around 80 MGD of Delhi's water supply has been stopped by the Haryana government, despite a Supreme Court's order.
The Delhi government had also threatened to file a contempt petition in the high court. "Delhi water crisis still not resolved. Water being stopped despite court order. I have directed DJB (Delhi Jal Board) to file contempt petition in HC," Mr Sisodia tweeted.
Mr Sisodia said he had requested Lieutenant Governor Anil Baijal to seek intervention from the Prime Minister's Office to deal with the water crisis. "This is a political issue and the PMO should intervene at the earliest. We should go beyond politics on this issue," he told reporters.
Mr Sisodia had also talked of water supply being cut equally from all areas if Haryana failed to deliver. But when someone tweeted a suggestion that the government could cut down water supply in "VIP & VVIP (ministerial) areas" for equal distribution, Mr Kejriwal promptly retweeted it.
In the evening, Mr Sisodia, who has been handling the water portfolio after the sacking of Kapil Mishra, held a high-level meeting with officials of the Delhi Jal Board and asked to keep "all options ready".
Within hours, Mr Kejriwal retweeted Mr Sisodia:
Delhi Water Crisis: Chief Secretary Haryana has just assured that water supply in Yamuna would be back to normal by tomorrow afternoon.

— Manish Sisodia (@msisodia) May 16, 2017
Out of the 900 million gallons of water Delhi needs per day, around 550 (almost 60 per cent) comes from Haryana and the rest from Uttar Pradesh.