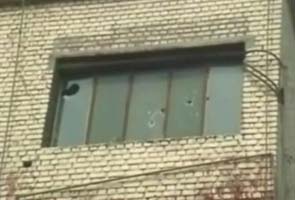 New Delhi:
On the second day of a strike called by trade unions, 15 offices and factories in South Delhi's industrial area of Okhla were attacked. The is two-day bandh is costing the country about Rs 26,000 crore.
Factory-owners said a mob of nearly 100 people shouting slogans against the government's economic policies pelted stones at the buildings.
They also complain that there weren't enough policemen patrolling the area despite yesterday's massive attack on another industrial area in Noida, 15 km from Delhi. 600 buildings were damaged there, and 25 cars were set on fire. The police reacted late and was out-numbered by the mob because most cops were guarding government buildings.
Today, in Okhla, owners of factories that were vandalised say the police was posted on the main road where large demonstrations were being held by trade union workers. They claim that they had warned the police that after yesterday's attack in Noida, they expected to be targeted today.
"This had nothing to do with actual protests. It was a mob of around 500 people and some people were directing them. We could see that it was the total failure of administration and Delhi Police," said Tejinder Sachdeva, a factory owner.
Police say six people have been detained.
The bandh also had its effect on commuting in Delhi as majority of auto-rickshaws and taxis stayed off the road. Students and office goers were the hardest hit.
"It was difficult to travel in Metro as trains were jam-packed. Passengers even struggled to get inside the Rajiv Chowk Metro Station because of heavy rush," said Dipali, a student.
The DTC has deployed over 5,000 buses to ferry passengers. Another 3,000 private buses including 1,870 mini buses, 283 Metro feeder buses and around 800 contract carriage buses were also pressed into service.