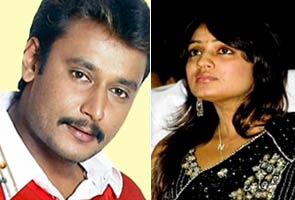 Bangalore:
The recent domestic battle between Sandalwood actor Darshan and wife Vijayalakshmi has been blamed on Sandalwood actress Nikita Thukral and the film industry has slapped her with a three-year ban.
Nikita claimed to have no involvement in the entire episode and said that she is being unnecessarily dragged into the controversy and punished with the ban.
The producers' association on the other hand still stands firm on their decision regarding her ban. They claim that her actions have degraded the industry and she has brought disrepute to Darshan and his family.
Speaking to MiD DAY from Mumbai, Nikita said she had no intentions of coming between the actor and his wife.
(Read: Nikita's statement)
Disillusioned
"I am shocked at the whole incident and all I intended to do was to make a name for myself in the industry. Darshan and Vijayalakshmi are a wonderful and happy couple and nothing can come between them.
Sandalwood has been like my home for the last nine years and now it feels like my parents (seniors in the industry) are screaming at me for going wrong somewhere.
I am been dragged into this and it is not fair," she said adding that Darshan was just her co-actor and that she was very hurt by the allegations and the ban.
The actress has now appealed to the Artists' Association, which would now be taking up the matter with the Karnataka Film Producers' Association (KFPA).
Strong words!
The KFPA President Munirathna Naidu said that the association would not back down on her ban and they were prepared for any eventuality, including going to court if necessary.
"Let her sue us for defamation and we'll reveal her reality to the world. She can call any association in the world, but we are firm on our stance.
We have proof about her misdeeds and will expose her if she tries to challenge our decision. Either she has to shut up and accept the ban now, or be prepared to face the music," said Naidu.
Regarding the apparent division within the industry related to the ban, Naidu said, "There is no division in our industry. We are not weaklings, we have stood firm and will remain to do so.
Those supporting her against our ban, will be thrown out of the industry," he said.
He further added that three movies starring Darshan are already out, but following this controversy there are no buyers. "If no buyers come forward, we will demand for damages from Nikita," he said.
Not for ban
Producer Manju said, "This decision is completely idiotic, besides there is no complaint been filed against her. The decision was hasty and unjustified."
Filmmaker Girish Karnad also agreed. "This is absolutely barbaric and it is a male chauvinist attitude. Darshan is the one who has a case against him and instead of taking action against him, the association is harassing a woman. Nikita is not connected to the issue and should not suffer."
Director Balaji also stood by Nikita's side. "This is a very stupid decision. If the association wants to ban someone, both parities involved should face the brunt.
I strongly oppose the treatment, " he said. Another Film Maker Girish Kasarvalli argured, "Who are we to judge and cast aspiration on her personal character? The ban is not justified as it is not her fault."