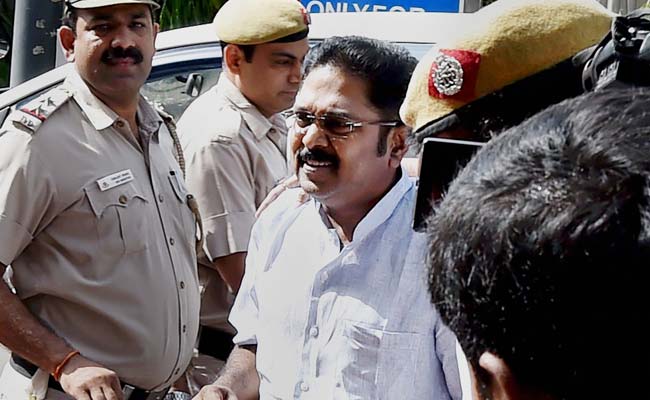 Chennai:
Sidelined AIADMK Deputy General Secretary TTV Dinakaran today removed chief government whip S Rajendran from a key party post, two days after the latter sought disqualification of the 19 MLAs owing allegiance to him.
Mr Rajendran was being "relieved" as the district secretary of Ariyalur, Mr Dinakaran said in a statement, while continuing to effect changes in the party ranks. He appointed P Muthiayan in Mr Rajendran's place.
On Thursday, Mr Rajendran had petitioned Assembly Speaker P Dhanapal for the disqualification of the 19 pro-Dinakaran MLAs who had revolted against Chief Minister E Palaniswami.
The Dinakaran-loyalist MLAs had met Governor C Vidyasagar Rao seeking removal of Mr Palaniswami as the chief minister.
Following Mr Rajendran's plea, the Speaker had issued notices to all the 19 MLAs, seeking their response on the matter.
Citing reports, Mr Rajendran had said the MLAs told Mr Rao that they were "withdrawing" support to Mr Palaniswami even as there was no change in the party's February 14 unanimous decision to elect him as AIADMK Legislature Party Leader.
The legislators had also addressed the media, which was an "anti-party activity" and the act implied "voluntary relinquishing of membership", Mr Rajendran had said.
They were therefore liable to be disqualified under the 10th Schedule of the Constitution, he had said in his petition to the Speaker, besides quoting from a Tamil Nadu anti-defection law.
Today, Mr Dinakaran removed AIADMK's district secretaries of Villupuram (South) and Sivaganga. Villupuram (South) functionary and MLA R Kumaraguru was being replaced by KGP Gnanamoorthy, Dinakaran said.
He also removed Lok Sabha MP PR Senthilnathan as the party's Sivaganga district secretary. KK Umadevan has been declared the new district secretary.
All the changes were being made with the "approval" of party chief VK Sasikala, Mr Dinakaran said.
Mr Dinakaran, who is involved in a tussle for power with Mr Palaniswami, has been reshuffling the party ranks in the past few days. He has removed, among others, five ministers, from party posts and replaced them with his supporters.