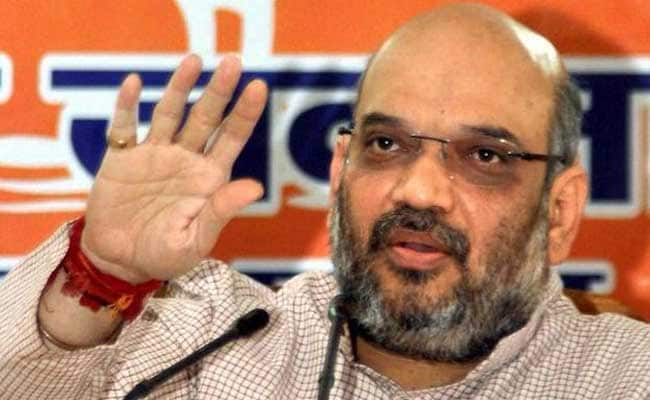 Chennai:
Amid uncertainty over his party's alliance prospects in poll-bound Tamil Nadu especially with DMDK, BJP president Amit Shah will "review the political situation" of the state during his brief visit in Chennai tomorrow.
Mr Shah is scheduled to attend a function involving Kanchi seer Jayendra Saraswathi and is also likely to meet senior office-bearers of the state unit, a party leader said.
"Since the state is going to polls, he will review the political situation but as of now there is no word on him meeting DMDK founder Vijayakanth," the senior leader told news agency PTI responding to a possible Shah-Vijayakanth meeting.
According to official sources, Mr Shah is expected to arrive in the evening on Wednesday and proceed to the venue.
He was later slated to leave for Kerala, another poll-bound state, they said.
BJP's alliance prospects with DMDK, which was part of the NDA for the 2014 Lok Sabha polls, are in a limbo with the actor-politician not only giving confusing signals on a tie-up but also announcing the party's decision to go solo in the May 16 Assembly polls.
Although BJP's Tamil Nadu in-charge and Union Minister Prakash Javadekar had called on Mr Vijayakanth earlier, DMDK had described the meeting as a 'courtesy call.'
Mr Shah, credited with scripting the party's success in the 2014 Lok Sabha polls and some of the subsequent state Assembly elections such as Haryana and Maharashtra, faces an uphill task in ensuring a good show in Tamil Nadu as the voters have traditionally favoured the two Dravidian parties, DMK and AIADMK since 1967.
DMK had wrested power from Congress in 1967 in the state and thereafter the fight has been confined between it and arch rival AIADMK, founded by actor-politician MG Ramachandran.