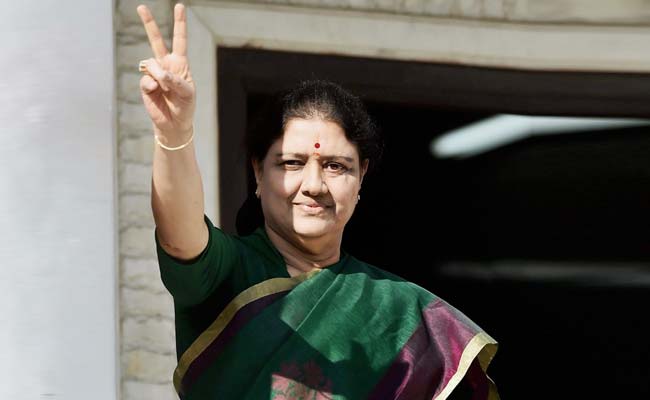 Highlights
Sasikala new AIADMK legislature party leader; will soon be Chief Minister
She is not an elected Tamil Nadu lawmaker, had never held any party post
Opposition has opposed her elevation saying she has no experience
Chennai:
VK Sasikala, the longtime friend of J Jayalalithaa who emerged from the shadows after her death, is set to take over as the next Chief Minister of Tamil Nadu - a remarkable rise for a person who has never fought an election. Before her takeover, she faces a Supreme Court verdict next week in a corruption case. The court is likely to announce its decision on a petition challenging Ms Sasikala's acquittal in a disproportionate wealth case.
Ms Sasikala also faces potential trouble from Jayalalithaa's niece Deepa Jayakumar, who recently announced her political debut and claimed to be her aunt's natural successor with support not just within the ruling AIADMK but also among people. "There isn't anyone else and I have proof," the 42-year-old told NDTV last month.
That support is untested yet, even for Ms Sasikala.
This morning, the crowds and celebrations were starkly missing at Jayalalithaa's Poes Garden home, where Ms Sasikala continues to stay.
Outgoing Chief Minister O Panneerselvam or OPS, always the stand-in Chief Minister for Jayalalithaa, had signed his resignation letter long before the party chose Ms Sasikala.
The 61-year-old former video cassette seller, who has been seen in Jayalalithaa's signature green in recent photo-ops, faces more challenges as she prepares to rule one of India's most politically vital states.
Within six months as Chief Minister, she has to win an election and become a part of the state assembly.
On why Ms Sasikala waited all this time after Jayalalithaa's death on December 5 to step into her shoes, sources say "Chinamma" or "younger sister to Amma" - as she is known in the party - was in mourning.
Winning the perception battle is another test for Ms Sasikala, with a section of the party as well as the opposition DMK questioning her credentials as successor to Jayalalithaa - who rose to power after long years of struggle.
"The people of Tamil Nadu did not vote for anyone from Jayalalithaa's household to become CM," tweeted DMK's MK Stalin.
Ms Sasikala's supporters say despite her inexperience, she has managed to hold the grieving party together and stave off a power tussle between veterans.