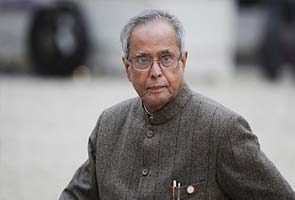 Tirupati:
President Pranab Mukherjee offered prayers at the famous hill shrine of Lord Venkateswara at nearby Tirumala on Thursday.
On arrival, Mr Mukherjee was accorded a reception with full temple honours by the priests who conducted him to the sanctum sanctorum amid chanting of Vedic hymns.
After prayers, he was presented with a sacred silk cloth, 'laddu' prasadam and holy water by temple authorities while the priests invoked divine blessings at the ancient Ranganayaka Mandapam inside the temple, where he spent about half-an-hour.
This was the President's second visit to the hill shrine after assuming the country's highest office in July.
Earlier, he had visited the temple on September 9.
Mr Mukherjee, who arrived from Hyderabad on a six-hour visit, inaugurated the Andhra Pradesh Government- sponsored three-day World Telugu Conference here before proceeding to Tirumala by road.
State Governor E S L Narasimhan and Chief Minister N Kirankumar Reddy accompanied the President.
Tight security arrangements were put in place in Tirupati, at Tirumala and the ghat road.