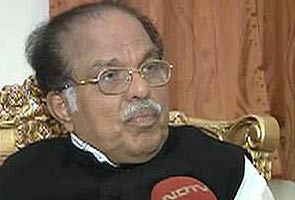 New Delhi:
If PJ Kurien remains Deputy Chairman of the Rajya Sabha, he will be beating the odds, say many in his party, the ruling Congress.
Mr Kurien met with party president Sonia Gandhi, reportedly to explain charges of rape against him that date back to 1996, when a school girl was raped in Mr Kurien's home state of Kerala and Tamil Nadu by nearly 40 men in as many days.
In a week, Parliament meets for its budget session. One of the main points of discussion will be the new anti-rape laws introduced recently by the government. Many say that given the accusations against him, Mr Kurien cannot chair debates on the safety of women, a matter of national focus since December's fatal gang-rape of a student on a Delhi bus.
Mr Kurien was exonerated by the Supreme Court a few years ago in what's known as the Suryanelli rape case, but the woman has reiterated in recent weeks that he was among her assaulters, and was not investigated seriously because of his political influence.
Her renewed allegations come after the Supreme Court set aside an order of the Kerala High Court, which acquitted 34 of 35 men accused of raping her. Mr Kurien's critics say that when the Supreme Court agreed that there was no need for Mr Kurien to be tried in the case, it relied at least in part on that order. The Supreme Court has ordered a retrial of the case. So now, the victim and many of Mr Kurien's opponents say, he should be re-investigated.
This week, the only man who had been convicted by the Kerala High Court in what's known as the Suryanelli rape case appeared on television after years of being untraceable by the police and said that he drove Mr Kurien to the guest-house where the woman says he raped her in 1996.
Follow NDTV for latest election news and live coverage of assembly elections 2019 in Maharashtra and Haryana.
Subscribe to our YouTube channel, like us on Facebook or follow us on Twitter and Instagram for latest news and live news updates.