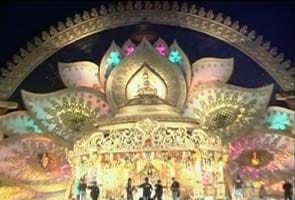 Vizianagaram:
As Andhra Pradesh transport minister, every vehicle should be at his beck and call. That was probably the presumption of Andhra Pradesh PCC president and state transport minister Botsa Satyanarayana Rao when he hosted his daughter's wedding celebrations in Vizianagaram district on Wednesday. An estimated 300 SUVs from three districts was allegedly used to ferry guests around Vizianagaram, Srikakulam and Visakhapatnam. Who footed the bill is the big question?
Private taxi operators are reluctant to go on record with who called for the vehicles and who is paying. Several operators say they had to cancel pre-existing booking to accommodate the demands. District officials requesting anonymity say it is not unusual for VIPs to ask for vehicles to be sent and since it is not official, there is no one to pick up the tab.
Former Energy secretary and senior IAS officer EAS Sarma has written to everyone from Congress president Sonia Gandhi to state chief minister Kiran Kumar Reddy to Governor ESL Narasimhan asking who is footing the bill for the arrangements being made for transport and hosting of so many VVIPs. Mr Sarma says it is nothing but a farce that so many ministers and others chose to conduct review meetings in the district precisely on the same date, in an attempt to give a private visit the garb of an official one. Many ministers were travelling with their family members.
Even governors from Tamil Nadu and Karnataka, K Rosaiah and HR Bhardwaj, and leaders from Delhi, including Ghulam Nabi Azad, attended the wedding. So did virtually the entire Andhra Pradesh council of ministers and those newly inducted into the Union council of ministers from Andhra Pradesh.
It was as though not just the entire district machinery of Vizianagaram and also adjoining Visakhapatnam and Srikakulam had been drafted for wedding duty. Policemen were deployed in huge numbers.
Officials say the visit of so many VIPs calls for not just protocol and deployment of official machinery but also raises security issues. This falls on the Andhra-Orissa border where there is Maoist threat as well.
There has been no response from Botsa Satyanarayana or the state government. Congress leader PC Chacko said in Delhi yesterday that if official machinery was misused, the Congress was not for it.
Andhra Pradesh Congress Committee chief Botsa Satyanarayana is considered a very influential leader in these parts with influence over several sectors. He and his family are being investigated for links in the liquor mafia scam.